The following story was written by Nick Ward.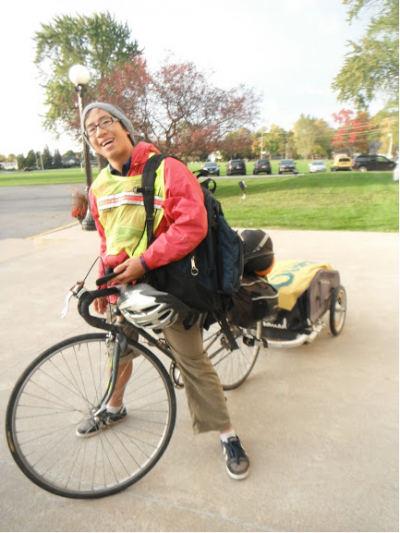 In the fall of 2012, Austin Lui peddled his way from Kitchener-Waterloo to Ottawa spreading a message of global consciousness. As part of the Otesha Project, Phenomenal Food Tour, Lui and 6 other volunteers made stops in a number of communities and schools to perform plays and facilitate workshops as a way of creating a dialogue with students and community members on the importance of understanding the impact of our actions on the world around us.
Throughout the two month bike tour, the 7-member team did all they could to better educate themselves and others on how food systems function in Ontario. The group would often sleep on farms and visit local food initiatives to volunteer their labour while learning about how food is grown and distributed in Ontario.
Having just graduated the previous spring from Carleton University with a Master's Degree in Music and Culture under supervisors Jesse Stewart and James Deaville, Lui wanted to make the most of his new found, more autonomous schedule. He has always held a profound passion and interest in social justice, and now that he possessed the tools to go out into the world and make a genuine difference, Lui decided he would dedicate the next step of his life to helping to empower others.
"My MA at Carleton helped me to hone my critical skills. I learned lots of transferable skills including how to engage in dialogue. While traveling with Otesha, these skills and this mindset allowed me to engage in discussions with the audience rather than simply presenting to them. I'm very passionate about helping people start their own initiatives, and I think I have the ability to do so effectively."
During his tenure at Carleton, Lui was an active member of the Music Department. He acted as President of the Music and Culture Society, and helped organize important events such as a symposium on Music and Social Justice. With the support of his supervisors (Deaville and Stewart), and Music professor James Wright, Lui was quite successful in making the most of his time in the Music Department.
Superficially, and for those who might not be knowledgeable of the program, an MA in Music and Culture may seem to hold little correlation with the field of social justice. Lui's experience disproves this, as his education proved entirely relevant and applicable to his first post-graduation venture into social activism. He always knew he wanted to help others in some capacity in his professional career, so Lui wrote his thesis on an innovative, internationally respected and emulated program which focuses on improving the lives of the less fortunate through an education in classical music.
"My thesis was on a community music program for underprivileged kids called "El Sistema"- a hugely successful publicly financed, voluntary sector music education program which commenced in Venezuela and has since acted as the template for similar NGO's worldwide – and "The Leading Note Foundation" here in Ottawa," explains Lui. "My additional passion for cycling, environmental sustainability, community living and food justice made this tour a perfect fit for me. Many of the skills I acquired at Carleton were totally relatable to my work on the Otesha Project"
Beyond implementing the research, organization and critical skills from his MA in Music and Culture on his adventure, as a musician, Lui was also able to exploit his creative abilities to fortify the Otesha message. Realizing the power of music and art as an agent of social development, Lui and his group would put on social theater plays, workshops and mini concerts which were equal parts entertaining and enlightening.
"With a ukulele strapped to my bike, the tour allowed me to put my skills and interests into practice."
The weekend of November 10, 2012 was rather significant for Lui. Not only did her receive his Master's Degree at Carleton's Fall Convocation; he was also informed that Otesha had hired him as a full time Program Coordinator for ChangeLink.
Lui's success operates as a great reminder of how students and graduates can parlay an exceptional volunteer opportunity into a dream profession.
"I'd recommended Otesha to any anyone. It was truly a powerful opportunity that I learnt so much from! Many members of our team didn't even own a bike before this trip, so don't let a lack of confidence in your cycling ability hold you back."
New projects for the Otesha Project include: Food Sustainability, Aboriginal Issues, and Urban Farming
To learn more about the 2013 Otesha Project bike tours, please visit: http://www.otesha.ca/content/2012-bike-tours.
–Written by Nick Ward