POSTSCRIPT:  Robyn McQuaid graduated on Nov. 14, 2015. She won a University Medal for Outstanding Graduate Work at the Doctoral Level. The following story was originally published in TheGraduate@Carleton on May 13, 2013.

Feeling depressed? It could be because your oxytocin system is out of whack.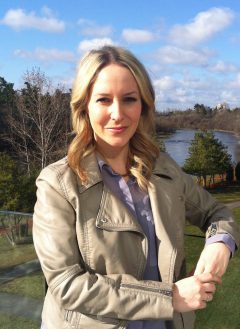 PhD candidate, Robyn McQuaid is examining the role that the hormone oxytocin plays in stress and pathological outcomes such as depression.
About 15 per cent of the population suffers from depression.
Explains McQuaid: "Despite the prevalence of depression and its impact, current treatments of this disorder have met with limited success, and the poor understanding of this illness has prevented the development of novel antidepressant agents. Thus, understanding the role neuropeptides, such as oxytocin, may play in depression may help offer new targets for the development of novel antidepressants in the future."
The Canadian Institutes of Health Research (CIHR) awarded McQuaid a $70,000 (over two years) Frederick Banting and Charles Best Canada Graduate scholarship to continue her depression research.
McQuaid, who hails from Prince Edward Island, has been a graduate student in the Department of Neuroscience. "The Neuroscience Department is tight-knit and this provides a wonderful opportunity for collaborations and a sense of closeness within the department," says McQuaid. "The faculty members are very passionate about their research and this translates into students who are equally excited about their work."
Adds McQuaid: "I also feel truly fortunate to have Dr. Hymie Anisman as my supervisor. He has been central in fostering my research direction and has been fundamental in any of my academic successes so far." Anisman is the Canada Research Chair in Neuroscience. He won a 2012 Faculty Graduate mentoring Award for his exceptional mentorship of graduate students.
McQuaid hopes to obtain a postdoctoral fellow position and eventually a career in academia so she can continue mental health research and make significant contributions to the field.