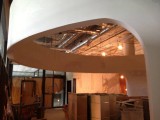 This fall, a new Aboriginal Centre will open on campus.
"The new Centre will be significantly larger than the existing Aboriginal Lounge and will include an expanded lounge space and computer lab," says Mallory Whiteduck, an Aboriginal Cultural Liaison Officer at Carleton. "New additions that students can expect are a kitchen, an Elder's room, a group study room and an office."
Adds Whiteduck:  ""Many Aboriginal students come from close-knit communities, where you can't drive to the gas station without seeing someone you know. Coming to a university with tens of thousands of students can be overwhelming. The Aboriginal Centre is a piece of campus where students can come and feel at home. We also encourage non-Aboriginal students to use the Centre and participate in the fun and educational events organized here."
Until the new Centre opens, Aboriginal students are welcome to visit the existing Centre located in T27 (tunnel entrance) of the Tory Building.
There are also a number of groups on campus that assist both graduate and undergraduate First Nations, Inuit and Métis students.
The Centre for Aboriginal Culture and Education (CACE) employs three Aboriginal Cultural Liaison Officers who work collaboratively with various communities, on and off campus, and academic units to provide all kinds of programs, services and cultural events.
All of CACE's services, including the Indigenous Human Library, Pow Wows and the Visiting Elder program, are open to all students, grad or undergrad, Aboriginal and non-Aboriginal.
"We make an effort to include graduate students in events, such as the "Cultivating Connections" event last fall, where their knowledge and research areas could advance Aboriginal initiatives at Carleton," says Whiteduck.
At fall Orientation, CACE will again sponsor a Welcome Lunch on Sept. 18 from 11:30 a.m. to 10 p.m. in 228 Paterson Hall  for all new and returning Aboriginal students and will host a Welcome Pow Wow on campus on Sept. 21 in the Norm Fenn Gym.  More info. is available on the CACE website.
The CACE website includes useful information such as what master's programs allow grad students to specialize in Aboriginal Studies, a list of faculty members who research in this area, and specific bursaries that are available to Aboriginal graduate students.
You can follow CACE on Facebook, Twitter and YouTube at "CUAboriginal" for up-to-date information on what is happening in the Aboriginal community on campus. You can also sign up for CACE's weekly e-newsletter, Minwàdjimowin (Good News), which has become a primary source of news and community events for both Carleton students and the wider Ottawa community.
There is also the Aboriginal Student Service Centre (316A University Centre) on campus that invites grad students to drop in. The Centre advocates Aboriginal issues on campus and provides peer support for Aboriginal students. And there is a group of students that receives funds from the Carleton University Student Association to organize special relevant events on campus called the First Peoples Council.
Friday, August 23, 2013 in Grad Student Services, News
Share: Twitter, Facebook