This ongoing series is looking at PhD alumni who are doing non-academic jobs. Each person tells their story and provides tips on finding work in the non-academic sector. For other stories in this series, you can visit our Alumni Success Story archive.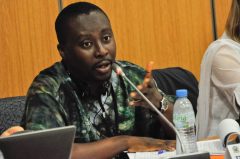 While completing his PhD in Political Science (2012) at Carleton, Franklin Oduro was already working as head of Research and Programs/Deputy Director for the Ghana Center for Democratic Development (CDD-Ghana) in Accra, Ghana. "I have spent all my work life in the non-state sector, working for non-profit organizations. I enjoy what I do, and I feel I am contributing to a change in the way we govern ourselves in Ghana and Africa."
As an organization dedicated to the promotion of democratic development in Ghana and Africa as a whole, CDD-Ghana sought someone with a higher degree in social science (in particular political science) to assist in managing its democracy promotion-related projects.
Oduro says: "I believe that the added knowledge capacity I had acquired from Carleton, the exposure I had gained while at Carleton (by way to attending academic conferences, socializing with colleagues from different parts of the world in a classroom setting, and the experience I have acquired in teaching, among others, had prepared me to respond to this call."
The alumnus originally chose to pursue his PhD at Carleton, "because of its strong political science department/faculty and the department's focus on theoretical understanding of public policy, public administration and comparative politics."
The late Professor Edward Osei Kwadwo Prempeh was his first academic advisor. "He kept me on in the early stages and encouraged me to stay focused with my studies and assured me that I was no different from my other colleagues in the course/class, and that I will make it."
Dr. Chris Brown was chair of his dissertation committee. "He was patient with me (even when I took up a job in the course of writing my dissertation), encouraged me to pursue my dissertation while working; challenged me to think deep on the focus of my dissertation, and what contributions I could make to academia. He pushed me to be more original in my thinking of what I wanted to research on. He did get me to move on during some of the most stressful moments in writing the dissertation."
For his thesis, Oduro chose to investigate what informs countries in Africa to adopt truth and reconciliation commissions as a method to address gross violations of human rights. He wanted to understand why and how countries adopt this mechanism and not other options available to them and then draw lessons (good and bad) to inform decisions of new countries that were contemplating adopting this approach.
"I see my successful completion of the PhD studies as a great achievement in my life so far," shares Oduro. "I belong to a family of nine and I am the first to receive a PhD education. I see this as an honour for myself and for my family."
For current PhD students seeking employment outside academe, Oduro says: "Preparation is key!! Be prepared!, prepared!!, prepared!!! Know your field and your strength; be expert in one field/area than several. Combine a bit of practical/policy world while in school (of course when you are at stage of close to completing) to expose you to the working world."