The following story, by Susan Hickman, was originally published in the Nov. 2015 issue of Carleton Now.
Older Canadians are hopeful about the kind of care robotics could bring to their later years, according to a newly graduated sociology master's student.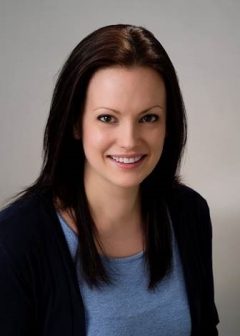 Louisa Hawkins, who defended her thesis in August, wrote a nearly 200-page dissertation examining elder peoples' understandings of and feelings about robotic interventions. She focuses on the future of elder care and the possibility of collaboration between socially and scientifically focused researchers.
She spoke to Ottawa residents over the age of 70 about their experiences regarding elder care throughout their lives, that is, the care they have provided to older people as well as the care they receive or need for themselves. She also consulted with engineers and technicians who are working on automated solutions.
One older man she spoke to was interested in the idea of a robot which would not only care for him, but also be something he could care for.
"My study was not about the robots," explains Hawkins, "but about care and the care deficit, and about the networks of support in the community – those that already exist and those that people wish existed."
A thesis examination board member says Hawkins' thesis is "a remarkable achievement."
Hawkins' study "deals with one of the most pressing questions of our day," says Chris Russill, "and does so with deep experience, wide learning, great sympathy, and crucial insights into the problems of elder care in Canada and opportunities for improvement in the welfare of our aging peoples and those caring for them."
Russill notes Hawkins' work has immense potential to inform the evolution of care industries and the difficult decisions Canadians face on a daily basis.
"The future of non-human care is marked by uncertainty and fear, but also by an unexpected sense of hope in the companionship of robots," says Hawkins. "Robotics care provides hope to elder people that they can maintain independence and age in place, if not for them, then for their children and their grandchildren."
In her thesis, Hawkins also considers a model of intergenerational care, which matches younger people with older people, allowing relationships to occur organically – housing a child care centre in the same building as a long-term care facility, for example.
Hawkins' drive to study elder care stems from witnessing her husband's grandmother fall and then pass away in a long-term care home in New Brunswick.
"The experience was heartbreaking," recalls Hawkins, who has since volunteered with elder people who have dementia, youth and people with disabilities.
Hawkins' ability to find value in working with one person at a time, one day at a time, goes a long way in helping her in her current job as a community connector with LiveWorkPlay, an Ottawa organization supporting people with intellectual disabilities.
"My work now is 100 per cent using everything I learned in my volunteer work and in my graduate degree and undergrad studies."
While Hawkins is not looking too far beyond her present circumstances, she dreams about continuing academic studies.
"However, it is important for me to have my feet on the ground in the community. Otherwise, what experience am I going to bring to a PhD?"
Hawkins graduated at Fall Convocation on November 14, 2015.