Grad Student Andrew Sproule wants to create a toolkit for teachers who are interested in incorporating improvisation in their music classes.
"Many talented students miss the opportunity to develop their improvisatory voice because teachers lack the strategies," says Sproule.
He is working on assembling a series of musical activities and developing feasible approaches for teachers to use in the classroom. Among others, these activities include Soundpainting, Cobra, Deep Listening and graphic scores.
While studying music at the University of Guelph, Sproule was a member of the Contemporary Music Ensemble and a research assistant with Improvisation, Community, and Social Practice (ICASP).
As an improviser and an aspiring educator, he noted that improvisation was curiously absent in his formal music education.
"I believe improvisation should be a part of every student's education because it is a locus for creative development, which I believe is crucial during students' formative years."
Earlier this year, he designed and taught a course as a part of the Enrichment Mini-Courses Program at Carleton entitled: Winging it: The Art of Musical Improvisation. The 19 participants, ranging from grades 8 – 11, spent the entire week improvising and reflecting upon the music they made. "Not only was it an opportunity to test some of the activities I'd been working on with students, but it was also a chance to provide students, who had very little experience improvising, the chance to push the bounds of their own creativity," shares Sproule.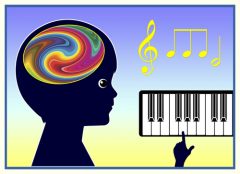 He is now using the data he collected during the mini-course, along with other research, to create a compelling case about the benefits of incorporating improvisation in music classes.
Sproule says he has been mentored throughout his thesis process by music professor Jesse Stewart, an award-winning composer, improviser and educator. "He has been immensely helpful in guiding me to ask the right questions and providing me with the resources to achieve my research goals," says Sproule.
He adds: "At Carleton, I have received an unprecedented amount of one-on-one attention from faculty who are devoted to seeing their students achieve their research goals."
After completing his Master of Arts in Music and Culture, Sproule plans on attending teacher's college and then implementing his research in the classroom.