The following story was originally published in the June/15 issue of Carleton Now. It was written by Kirsten Fenn.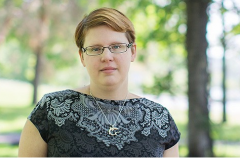 In many families, it's a tradition for parents to read their children storybooks that will teach them simple life lessons. The one Maaike Helmus remembers most from her childhood is a story about the danger of talking to strangers. While it struck her as slightly scary at the time, she laughs about it now.
After 12 years of studying at Carleton — and three degrees later — it's still that single childhood book that she believes sparked her curiosity about Canada's correctional system and studying sexual offenders. And at 30 years old, after graduating with a PhD in Forensic Psychology, in the spring, Helmus' expertise has led to a first-of-its-kind tool that will help reduce the number of prison inmates placed in segregation – or solitary confinement.
"There's human rights concerns and practical pocket book concerns about segregation," says Helmus, who received an University Medal for outstanding graduate work. "There's some estimates from the United States that building, maintaining and staffing segregation units can cost two to three times more than traditional prison environments. Obviously that's money that we don't necessarily have."
A flurry of media attention in recent years has also encouraged pushback against the practice and raised questions about the implications of segregation on mentally ill inmates. In the most high profile case to date, teenager Ashley Smith strangled herself to death while in segregation and under suicide watch at a Canadian federal prison in 2007.
"I think that really blew the lid open and helped us recognize that we need to do a lot better in how we handle behaviour issues among inmates," Helmus says.
In response to Smith's case, a report recommended that Correctional Services Canada (CSC) screen inmates upon entering the prison system to identify those most at risk of being placed in segregation in the future.
Having just begun a new job at CSC, Helmus recognized the need for a tool that could assess this risk and decided to work with the government to design one. Through an agreement with the government, Helmus received access to CSC data, allowing her to analyze segregation practices and produce her PhD thesis on the results.
Practical and cost-efficient, the tool she designed requires only an offender's criminal history and current sentence to determine their risk level.
"So the scale can be scored in minutes based on information that's available right at your fingertips the day they start their prison sentence," Helmus says.
Simplicity was key in designing the risk assessment tool.
"The federal prison system receives about 5,000 new inmates a year and with all these budget cuts they have no capacity to offer detailed psychological assessments of each offender's risk for segregation."
Helmus is pleased with the results of her research, which showed that her tool is highly accurate in predicting inmates' risk of segregation. She hopes the tool will serve as a first-step in addressing the problem and will lead to other policy improvements.
For now, she's looking to the future. With 12 years of school under her belt, nearly 30 published research papers and a multitude of professional experience with Canada's correctional system, Helmus isn't ready to give up on her research just because she's graduating.
"I'm happy, I'm proud, I'm exhilarated, I'm exhausted," she says of her work. "I want to find meaningful employment where I can continue to do quality correctional research to improve correctional practice."
Postscript (Nov. 3, 2015):  As a result of her research, the National Institute of Justice invited Helmus to Washington to present and participate in a working group designed to set an agenda for research on segregation in the United States (something Obama specifically requested). This meeting included representatives from most of the U.S. State Corrections Departments, as well as federal Department of Justice (and other organizations, including the American Civil Liberties Union and the Vera Institute of Justice). Helmus says:  "It was neat – I was the only person outside the US who was invited to participate in this, so it was a wonderful honour and opportunity for me."
On Nov. 14/15, Helmus will be presented with Carleton's top medal, the Governor General's award, at Fall Convocation.