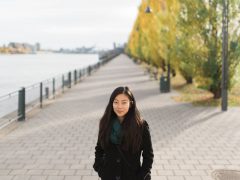 Cathy Liu studied physiology during her undergraduate degree. So you might think it a little strange that she then chose to pursue a master's degree in sustainable energy. As she says, "an almost complete 180."
But she was becoming more and more interested in the news and politics surrounding pipelines and the oilsands and so the SE degree seemed like a good fit.
Says Liu: "Energy is an extremely current and relevant issue right now and this program is excellent at preparing you for a career in this field. Especially with the co-op aspect of this program, you can get a first-hand experience at the inner workings and the challenges faced by the federal government on this pressing issue."
Liu loved the interdisciplinary nature of the program which caters to both policy and engineering students. "It wasn't purely focused on policy. We were given the opportunity to learn about the science behind it – how renewable technology operates (e.g. the resources a solar farm needs), how a nuclear facility functions, how to calculate GHG emissions.) Energy is a part of so many different aspects of our lives, and this program really goes into detail on each branch."
Liu chose to pursue a coursework-only stream, noting that you can also pursue a thesis or research project. She was delighted that a paper she wrote for a class on climate change communication got published in the student journal ISEMA: Perspectives on Innovation, Science, and the Environment.
Liu currently works as a policy analyst in the Strategic Energy Policy Division at NRCan. This Division is responsible for horizontal collaboration and integration across the Energy Sector. She works primarily on energy policy coordination and leveraging Federal/Provincial/Territorial collaboration on energy.
She will be graduating this Saturday with her master's degree.
Her plan is to stay in the government and further develop her policy skills and become a senior policy analyst or advisor. But she said that the private sector is another option that she may explore.
To learn more about the Carleton Sustainable Energy Research Centre, click here.
To learn more about the program, watch this video:
To find out what other students have to say about the Sustainable Energy program, watch this video: