The following story is written by Susan Bowness.
Burak Gunay is trying to improve the way our buildings work. While many engineers focus on designing greener spaces, Gunay is focusing on tweaking the way those spaces are maintained, with results that often reduce energy consumption by up to 60 per cent.
His efforts have earned him a PhD, a Governor General's medal and a University Medal for Outstanding Graduate Work – awarded at Fall Convocation on Nov. 12 – and in January, a return to his home department of Civil and Environmental Engineering, this time as an assistant professor.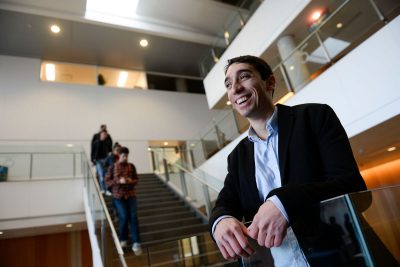 Under the supervision of professors Liam O'Brien and Ian Beausoleil-Morrison, Gunay designed a set of control algorithms that learns from the way that people interact with their thermostats and light switches.
For instance, typically lights and heat may be set to stay on in a commercial building until a particular time (say 10 p.m.), even though most people leave two hours earlier.
With temperature, often systems do not account for occupants wearing wear sweaters in the winter or light clothing in the summer, so users are always adjusting the thermostats.
Gunay's system learns these preferences and suggests them as the new standard.
Partnering with Vancouver-based automation company Delta Controls, Gunay implemented his sensors and algorithms on the fifth floor in the Canal Building on campus, with the sixth floor as a control.
"We compared the energy on these two floors before and after," says Gunay. "It turns out the heating use was actually reduced by about 75 per cent, cooling by 40 per cent, and lighting by about 30 per cent."
Not knowing actual usage patterns causes those who maintain buildings to make very conservative assumptions about occupancy, which translates to the wasted energy.
Following his success in the Canal building, Gunay is now working at the National Research Council to optimize 80 federal buildings for Public Services and Procurement Canada in a similar manner.
Gunay says he is honoured by the medals he received, but also motivated by the potential for improving energy consumption.
"The focus today is on designing green and energy efficient buildings, but what I'm arguing is designing efficient buildings is simply not enough."