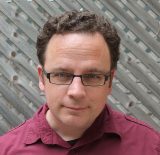 David Lafferty is the new Professional Graduate Development Coordinator with the Faculty of Graduate and Postdoctoral Affairs.
"I look forward to helping graduate students negotiate the challenges they face as they work through their programs and prepare to enter the academic and non-academic job markets," says Lafferty.
In this position, he will be responsible for Grad Navigate, a one-stop shop for graduate students seeking help with their professional development and campus resources relevant to grad students.
He will also oversee Grad Research Link, a website hub that helps graduate students find out about  opportunities to present, attend, and participate in all manner of research events at Carleton. As part of his portfolio, Lafferty will organize the annual Three Minute Thesis competition in which grad students talk about their research in three minutes or less, while vying for prizes.
In his five years as a Recruitment Communications Officer in Undergraduate Recruitment at Carleton University, he edited and facilitated the production of a wide range of recruitment publications including the annual Admissions Viewbook. He earned his Master of Arts in English (2002) and PhD in Cultural Mediations (2009) at Carleton, and has published two academic articles as an independent scholar, in Journal of Modern Literature and University of Toronto Quarterly.
"I know firsthand what it is like to be a grad student at Carleton and will be able to call on this experience as I start my new job," says Lafferty.
Lafferty wants to hear directly from grad students about professional development opportunities that they would like to see at Carleton. You can contact him at 613-520-2600 x 3229 or email him at david.lafferty@carleton.ca.