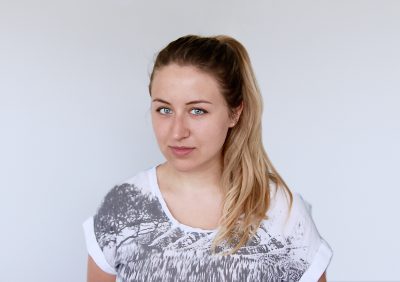 BJ'16 graduate Anaïs Voski is one of four Canadians this year to win a Mackenzie King Travelling Scholarship for graduate studies abroad. Worth $10,500, the scholarship will allow her to pursue a master's degree in international relations and politics at the University of Cambridge starting this fall.
In his will, Mackenzie King expressed the hope that this scholarship would "afford to Canadian students in the future opportunities to broaden their outlook and sympathies and contribute in some measure to that understanding of the problems and policies of other countries which is the basis of international good will."
Voski says: "With this degree, I hope to advance my knowledge of international relations with a focus on international security, particularly environmental security."
She will be writing her master's thesis on integrating environmental security into peacebuilding strategies to explore how war-torn and post-conflict countries in Africa and the Middle East can build resilient peace that factors climate change into the equation. Besides her studies, she chose Churchill College at Cambridge for its science-focused lectures and events and hopes to join its Gaming Society, and more generally make the most of her time while at the prestigious university.
"I want to make a positive contribution to Canada and the world," explains Voski. "As a journalist I plan to cover international affairs and science, particularly the political and scientific aspects of the environment, climate change and space exploration, and hope to teach in university later on, possibly in journalism school, as a means of giving back and educating the next generation of storytellers."
While an undergraduate student at Carleton, Anaïs worked for the Ottawa Citizen, UN Association in Canada, and was one of the founding members of Reporters Without Borders' Carleton University chapter. She was also a research assistant for Prof. Achim Hurrelmann and published an article on climate change and security in a peer-reviewed journal. Following graduation, she worked for The Wall Street Journal and CBC News in London, Farm Radio International in Ghana, and the European Space Agency in Germany. She is currently enrolled in an online certificate course in astrophysics.
She also won several awards including the Marjorie Nichols Memorial Award (2016), the Honourable Walter Baker Memorial Scholarship in Political Science (2015), the Provost Scholars Award (2015), Best Delegate at the Harvard National Model United Nations (2015), and was continuously on the Dean's Honour List while pursuing her Bachelor of Journalism at Carleton.
In her letter of recommendation for the Mackenzie King award, the Associate Director of the School of Journalism and Communication, Susan Harada, said: "Anaïs is a smart and talented journalism and academic researcher who has lived her life thus far as a global citizen. I firmly believe she will contribute much to the community of Canadian scholars abroad – and ultimately to the wider community – to the benefit of us all."
Prof. Achim Hurrelmann said: "She is unquestionably one of the top undergraduate students I have had the pleasure of teaching in my career."
Voski is appreciative of the support she received at Carleton. "I would like to express infinite gratitude to the School of Journalism and the Department of Political Science, and particularly Prof. Achim Hurrelmann, Prof. Susan Harada, Prof. James Meadowcroft and Prof. Andrew Cohen for their guidance, patience and support. I could not be more thankful to them."
Voski leaves for Cambridge at the end of September. After Cambridge, she hopes to work in journalism or continue with postgraduate studies.