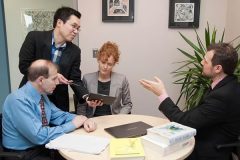 Please note: This session is now full. This professional development week will be offered again in the future during the summer and fall break.
The Faculty of Science is offering a professional development initiative during reading week, Winter 2017 (Feb 20 – Feb 23).
The jump from academia to the workforce is sometimes difficult to navigate for these current or former students. Based on discussions and interactions with employers and clients in the National Capital Region in recent years, CQADS consultants have identified a number of areas where skilled workers are typically in need of improvement.
In this workshop, we will discuss some of these items and provide practical exercises and concrete opportunities for participants to improve their workplace skills, including the job application process, day-to-day workplace culture, and communication skills.
Goals
prepare students for co-op work placements and internships
improve technical communication skills
prepare participants for team work and leadership in the workplace environment
provide information and training to help participants build a rewarding career
Registration
Register by sending an email to cqads@carleton.ca before February 1st, 2017. Please provide a current version of your CV, a short description of your ideal job, and a few of your technical interests by February 15th. Participation is limited to the first 12 applicants.
Modules
Workplace Environment and the Quantitative Employee
Role of the quantitative employee in the workplace
Workplace interactions
Cultural norms and expectations
Briggs-Myers personality profiles (mostly as an illustration of workplace variety)
Résumé and Cover Letter
CV Components (skills, achievements, experience, education, personal, etc.)
Responding to a job posting (cover letter, link with CV, etc.)
Practical work
The Interview Process
Selling yourself in an interview (question types, what not to answer, etc.)
Panel of employers/managers who will describe what they are looking for in their quantitative employees
Interview roleplay
Technical Writing
Communicating with technical and non-technical audiences
Reports, briefings, proposals, blog articles
Common mistakes to avoid
Practical work
Finding Information and Resources
Suggestions and common pitfalls
Practical work
Data Analysis Methods and Case Studies
Survey of quantitative and data analysis methods which are often of use in the workplace
Case studies illustrating the quantitative project cycle