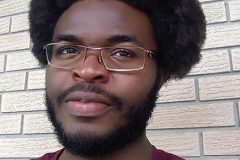 Charles Ozzoude, a Carleton University master's student in Health: Science, Technology and Policy, was a finalist in this year's 3MT (three-minute thesis) competition. Despite not winning the contest, Ozzoude's thesis topic has a lot of potential.
In recent talks with Ottawa Hospital officials, Ozzoude and four other students have discussed the idea of therapeutic gardens – that is, plant-adorned green areas on hospital campuses where patients and staff alike could go to de-stress.
"Gardens have a holistic aspect," Ozzoude says. "Our research found that gardens play a huge role in reducing stress and have emotional, nutritional, physical and social health benefits."
Along with the concept of gardens as stress relief, Ozzoude and his colleagues presented an idea for food gardens that could supply hospitals with fresh produce.
"An in-house food production garden would reduce the cost of outsourcing food and increase the quality of the food being served at the hospital," says Ozzoude, although his group recommends therapeutic gardens be developed before food plots.
"There are obstacles with health and safety and various operational logistics food safety and contamination to be worked out before the plan for the food production garden develops," he says.
"However, the hospital can use the therapeutic garden phase to become more familiar and proficient with garden operations before expanding into food production."
Ozzoude hopes to see both ideas implemented eventually. "Nature has great healing properties and can even increase productivity. This would be to the benefit of patients city-wide."
Although the presentation at 3MT was Ozzoude's creation, his research got a boost from Carleton's Health Science Department.
"The department provided us with an opportunity to engage, helped us to put the project together logistically. They featured us at Life Sciences Day earlier (in May). Not all students get exposure of this magnitude for their work. I'm grateful for the help I received from Carleton in the realization of the project."
Ozzoude's 3MT presentation can be viewed here.