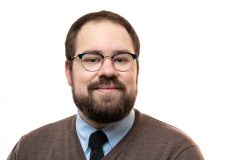 Antoine Genest-Gregoire, a Carleton PhD student in Public Policy, is one of three Carleton University students to have won a 2020 Vanier Canada Graduate Scholarship.
This extremely prestigious scholarship is awarded to Canadian PhD students who conduct exceptional research. It is valued at $50,000 per year for three years during a student's doctoral studies.
The other two recipients are Systems and Computer Engineering student David Luong and Legal Studies student Jean Ketterling.
Genest-Gregoire says the news took him by surprise as it came a lot earlier than he anticipated. "This is very welcome news for me especially in the current situation."
He says the money will allow him to spend a few months abroad to work with the best scholars in his field, when possible, as well as raise his standard of living.
Background
For as long as he can remember, Genest-Gregoire has been interested in questions of inequality. For that reason, he enrolled in an economics BA from Université du Québec à Montréal and an MSc in public administration from École nationale d'administration publique.
He has served as an elected President to the Quebec Federation of University Students (FEUQ) and, as such, was the spokesperson for an organization representing 125000 students. He was a member of the Board of Directors at the École Nationale d'Administration Publique (ENAP), member of the Board of Directors at the Association of Québec Economists, and Secretary General for the International Connexion of Montréal, a young international affairs professional network.
Genest-Gregoire chose to join the PhD in Public Policy at Carleton because he believes that, to have impact, you need to understand both the way the world works but also the way governments function. "Tax is a great example of a field where you can't understand how things are without looking at both the behaviour of individuals and the way the issue is discussed in the political arena."
Thesis Research
Genest-Gregoire's research focuses on how elements of family taxation might affect gender equality. The United States, France and Germany have tax systems that consider the unit of taxation to be the family (France) or married couple (US, Germany).
Canada's tax system partially considers family income, notably through transfers to families (such as the Canada Child Benefit or the GST tax credit). These are reduced as family income rises, and income-splitting measures are used, which allow high earning individuals to transfer some of their income and tax burden to their spouse.
Says the PhD student: "My research project will look specifically at these components of the tax system and assess whether they pose a risk to gender equality by making women more vulnerable economically, through lower savings, weaker workforce attachment and barriers to family reformation."
Genest-Gregoire continues: "Gaps between men and women are amongst the leading drivers of inequality around the world. The way we organize the distribution of salaried and domestic work has a lot to do with those gender inequalities. The tax system interacts with those household and workplace dynamics and can thus help us reduce the gap between men and women."
He hopes his research might help influence changes in the way tax credits and child benefits are assessed to reduce their effect on gender inequality. "Hopefully some changes to these could be included in future budgets."
Exceptional Supervision
Genest-Gregoire is supervised by Dr. Frances Woolley. "Professor Woolley is a recognized expert on questions of gender in economics. She has helped me write compelling arguments in favour of my candidacy and research project. She was particularly keen to make me adopt the point of view of evaluators and pushed me to write convincingly for people who know nothing about my subject."
Funding
His scholastic work has already been acknowledged by prestigious scholarships such as a scholarship from the Social Sciences and Humanities Research Council of Canada, the Hydro-Québec ESG-UQAM Research Initiation Scholarship, the Analysis Group Inc. Scholarship, and the Doctoral Grant from Québec's Humanities Research Fund (FRQSC).
Monday, June 22, 2020 in Awards, Awards of Distinction, Grad Student Research, News
Share: Twitter, Facebook