It all began in the 1970s when Architecture Professors Don Westwood and Phil Sharp, along with their students, created numerous theatrical productions, some in conjunction with Ottawa's Great Canadian Theatre Company (GCTC), others in collaboration with Carleton's English Department.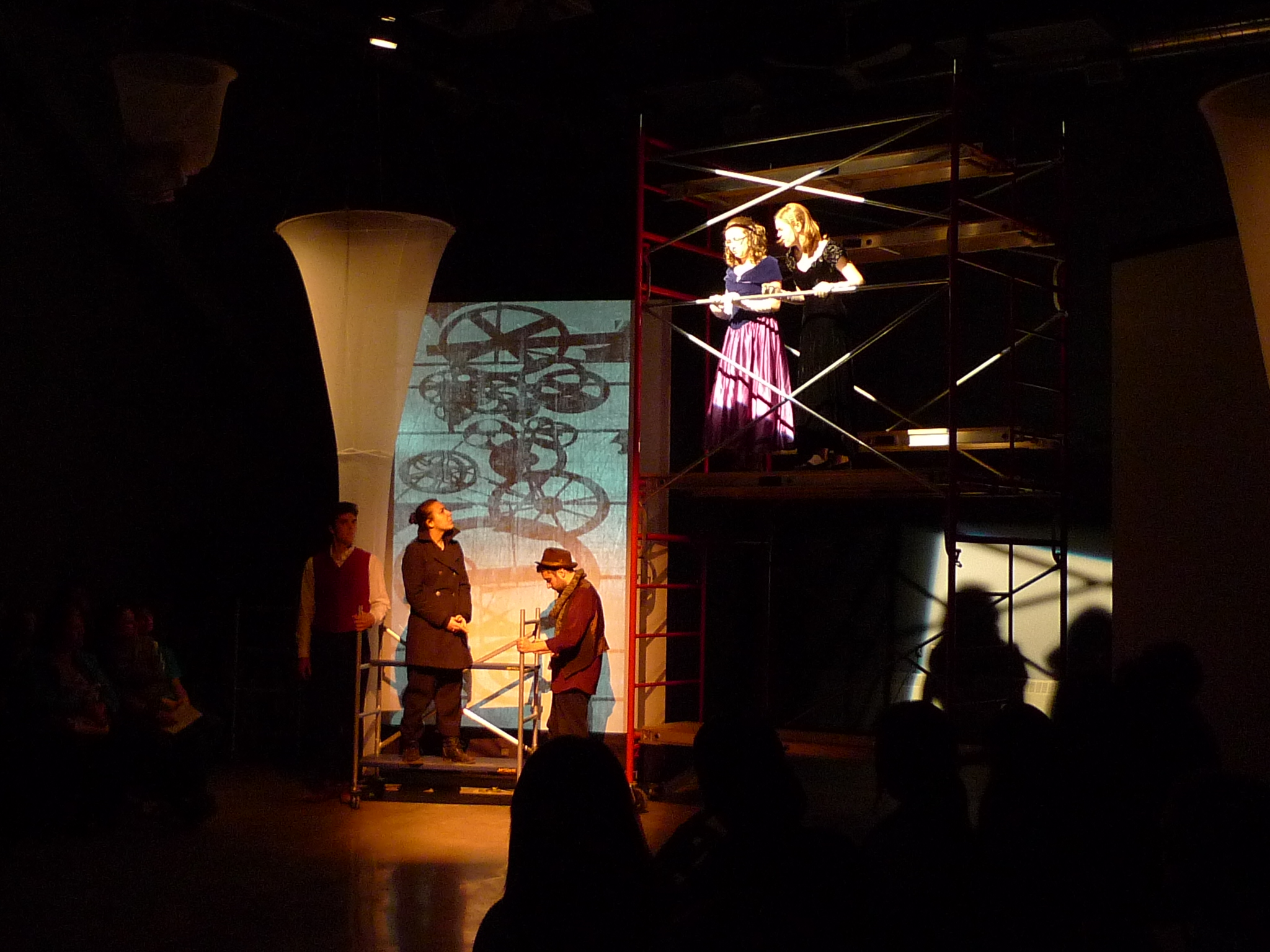 And then in 2002, Architecture Prof. Yvan Cazabon took over the Theatre Production Workshop for which he continues to produce collaborative drama productions to this day.
His early collaborations also included co-productions with Algonquin College's Drama Studies program while other projects included set designs for Carleton's South Asian Alliance dance competitions and a fundraising production sponsored by the GCTC.
Last year, in response to COVID, the production collaborated with the Music Department and created an audiovisual experiment entitled Life's Spatial Interludes. As the semester evolved and the possibility of a public performance became less likely, the collaborators focused on an immersive visual presentation delivered through a live YouTube channel. The 'sets', 'lighting' and spatial modelling were conceived and created through digital means and structured around a musical score prepared by the music students.
This year, three Architecture graduate students and five undergraduate architecture students collaborated with three English undergraduate students in the production of Soliloquies, Sonnets and Selfies pt3 – Objects are Closer Than They Appear.
As Prof Cazabon explains: "This workshop introduced the complex workings of live theatre. It was concerned with the theoretical and technical aspects of theatre production including questions of interpretation, abstraction, representation, design and construction."
The three graduate students were the "Art Directors" and each coordinated a Design team responsible for one ACT (3 to 4 scenes). Acting and interpretation of the original architecture scripts were provided by students in the English Department and enhanced by sets, lighting and multi-media stagecraft created by architecture students within the labs.
Students and experts from both departments prepared, produced and will present, in part or in whole, scenes excerpted from numerous sources including passages from one or more of the following Shakespearean plays adapted to film: Othello (1995), Merchant of Venice (2004), MacBeth (2015), and King Lear (2019).
What makes this collaboration even more interesting is that the three English students collaborated from away. "We will use social media, zoom and videotaping to bring them into the performance," shares Cazabon. "Their acting will be captured utilizing digital media and presented in a live event."
Grad student Sinan Husic says he decided to take this course for two reasons: "I really love the idea of balancing all of the moving parts of a production to arrive at something tangible, which is always a proud moment for anyone involved in making the thing happen. Secondly, there was also a bit of a longing for in-person instruction and a desire to get back to the normality of university life…I hope that our insights and points-of-view as university students will resonate with the viewers to some extent – that it shows how the pandemic has affected everyone's individual, familial and social lives."
Husic points out that it was not an easy task coordinating the entire production. "The limited number of students involved requires everyone to carry a bit more weight on their shoulders and dabble in every aspect of putting together a production. There is also difficulty in coordinating with the actors from the English department, as they are remotely contributing to the production so their roles need to be considered as primarily virtual. Therefore, the production will inevitably become a cross between traditional theatre and cinema."
Husic says he appreciates the experiential nature of this course. "I believe that online classes don't do a good job teaching theory and especially not practice, since it deprives students of learning environments that we now have come to understand as essential to the growth of students. The things that we as students learn through informal discussions while being in the same space as our peers and colleagues is entirely lost when we are confined to our rooms in the drudgery of online instruction."
At the end of the term, the students will be presenting all components of theatre from scripts, sets/settings, props, sound, music, lighting, digital media and broadcasted in a live YouTube event on April 24 at 7 p.m. You can watch Soliloquies, Sonnets, Selfies – Part 3: Closer Than They Appear by clicking on this YouTube link: https://youtu.be/Utk1OrVQTIk.
The program will remain on YouTube after the live broadcast.