As a kid, Laurenne Schiller thought the ocean was full of mystery and, by age four, had already decided to study fish and whales when she grew up.
However, as she grew older, Schiller began to realize that marine life and human beings are inexorably intertwined.
"Through my research and work, I seek to understand how we can lower our impacts on ocean environments and species while also ensuring those who depend on seafood for food and livelihood security have access to healthy fisheries in the future," says Schiller.
With a BSc in Marine and Freshwater Biology and an MSc in Zoology under her belt, she was accepted as a PhD student at Dalhousie University in Halifax. Her research there focuses on understanding and evaluating the role of different stakeholders in tuna fisheries governance.
Since 2014, she has also worked as a research analyst for Ocean Wise Seafood & Fisheries, where she assesses the environmental sustainability of small-scale Canadian fisheries.
The Prestigious Liber Ero Fellowship
Now, Schiller has just won the opportunity of a lifetime, a Liber Ero Fellowship, to study as a postdoctoral fellow at Carleton University. This highly competitive fellowship supports early-career scientists to conduct and communicate world-class research that informs conservation and management issues that are relevant to Canada.
Says Schiller: "We have a lot of ideas of what does and doesn't work, so my main goal with this project is to synthesize real-world examples and build a roadmap of sorts that shows how different stakeholders and rights-holders have effectively contributed to ensuring sustainable fisheries and protecting marine habitats in Canada so we can achieve similar success in the future."
She shares there are lots of moving pieces to examine. "Even within our country, there is such diversity in the outcomes of different conservation efforts—provincial legislation, industry participation and engagement, historical relationships between different groups, and the incentives that underpin all of those. Not to mention the ecological differences between our three oceans, the economic value of different fisheries and how their composition differs widely on all our coasts."
An Interdisciplinary Project
Schiller will be co-supervised by Dr. Graeme Auld from the Faculty of Public Affairs and esteemed marine researcher Dr. Steven Cooke from the Faculty of Science. She had already worked with Dr. Auld during her doctoral work.
"Graeme's expertise and experience in the field of environmental governance and policy will be invaluable in helping me. In terms of people researching the public-private interface in natural resource governance, Graeme is one of the best in Canada."
Schiller thinks it is critical for academics who research the interface between conservation science and policy to experience not only the conservation side, but the policy one as well.
Even 10 years ago, she says she didn't understand the complexity of fisheries management and thought that just producing more information was going to help policymakers "fix" fishery problems affecting tuna.
"Not until I sat at an annual International Commission for the Conservation of Atlantic Tunas meeting, in a room with hundreds of people from 50-plus countries, did I appreciate just how difficult it can be to reach agreement on management measures for these fish. I think that anyone who studies the governance of a natural resource needs not just to look at the biological or ecological side, but to also sit in the rooms where decisions are made. Otherwise, you're missing half the story."
Timely and Relevant Research
Her research is incredibly timely because Canada is joining 13 other countries in a non-binding pledge to sustainably manage 100 per cent of its oceans by 2025. Click here to read a CBC story about this. You can also check out the website of the High Level Panel on a Sustainable Ocean Economy. As well, right now, only one third of Canadian fish stocks are considered healthy and many lack sufficient data to be assessed.
Schiller still has to finish and defend her dissertation at Dalhousie but her current plan is to start at Carleton this coming September supported by the two-year Liber Ero Fellowship.
You might be interested in reading her blog that tackles topics from How to Love a Whale to The Dilemma in Kesennuma about shark finning and seafood consumption. She has featured this photo of herself and her dog Cousteau on the blog site.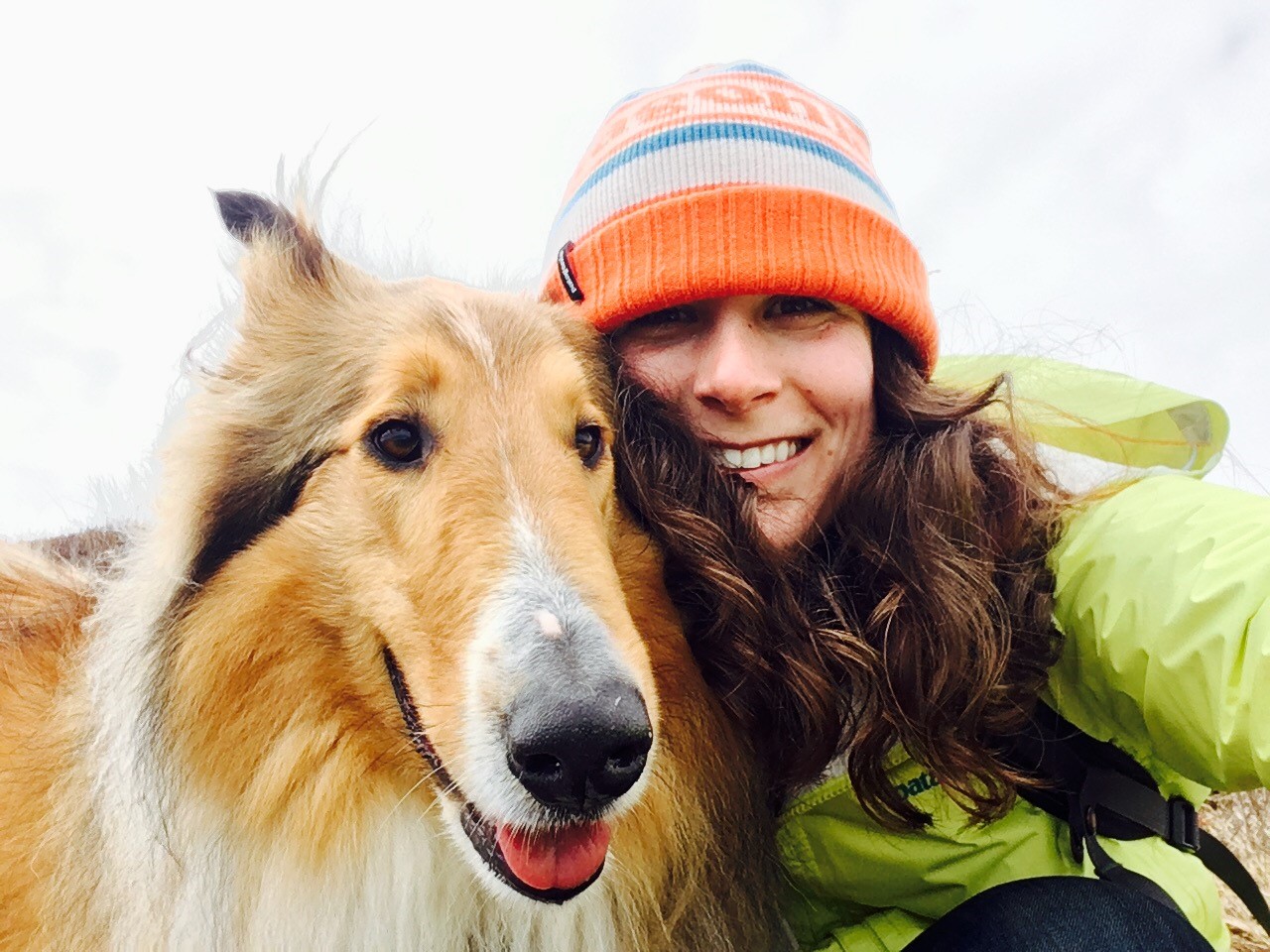 Thursday, February 25, 2021 in Awards, Awards of Distinction, News, Postdocs, Research
Share: Twitter, Facebook