3MT 2016 – March 1st
The 2016 Three Minute Thesis Competition was held on March 1.  Congratulations to the winners.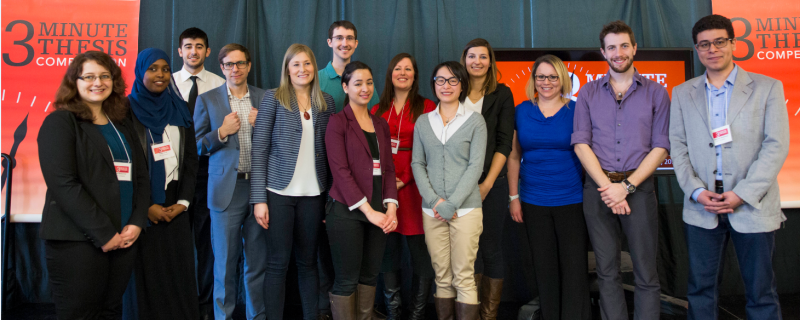 First Place & People's Choice Award – Cassandra Erichsen (Social Work) who spoke on Shame in Social Work Students – A Qualitative Interview Study. Erichsen won a total of $1,250 and will represented Carleton at the provincial championships at Wilfrid Laurier University.
Second Place – Hatav Shalileh (Social Work) whose topic was Stepping Stones for Newcomer Youth. Shalileh won $500.
Third Place – Evan Jones (History) speaking about Peter the Venerable vs. Judaism. Jones won $250.

Other participants were:
Kate Martynova (Psychology): Uncovering the G lass Ceiling
Faisa Omer (Neuroscience): Unlocking the Brain: Examining Language, Memory and Music Through Quran Memorization
Mohamed Abdelazez (Biomedical Engineering): No More False Alarms
Kevin Dick (Biomedical Engineering): Making It Personal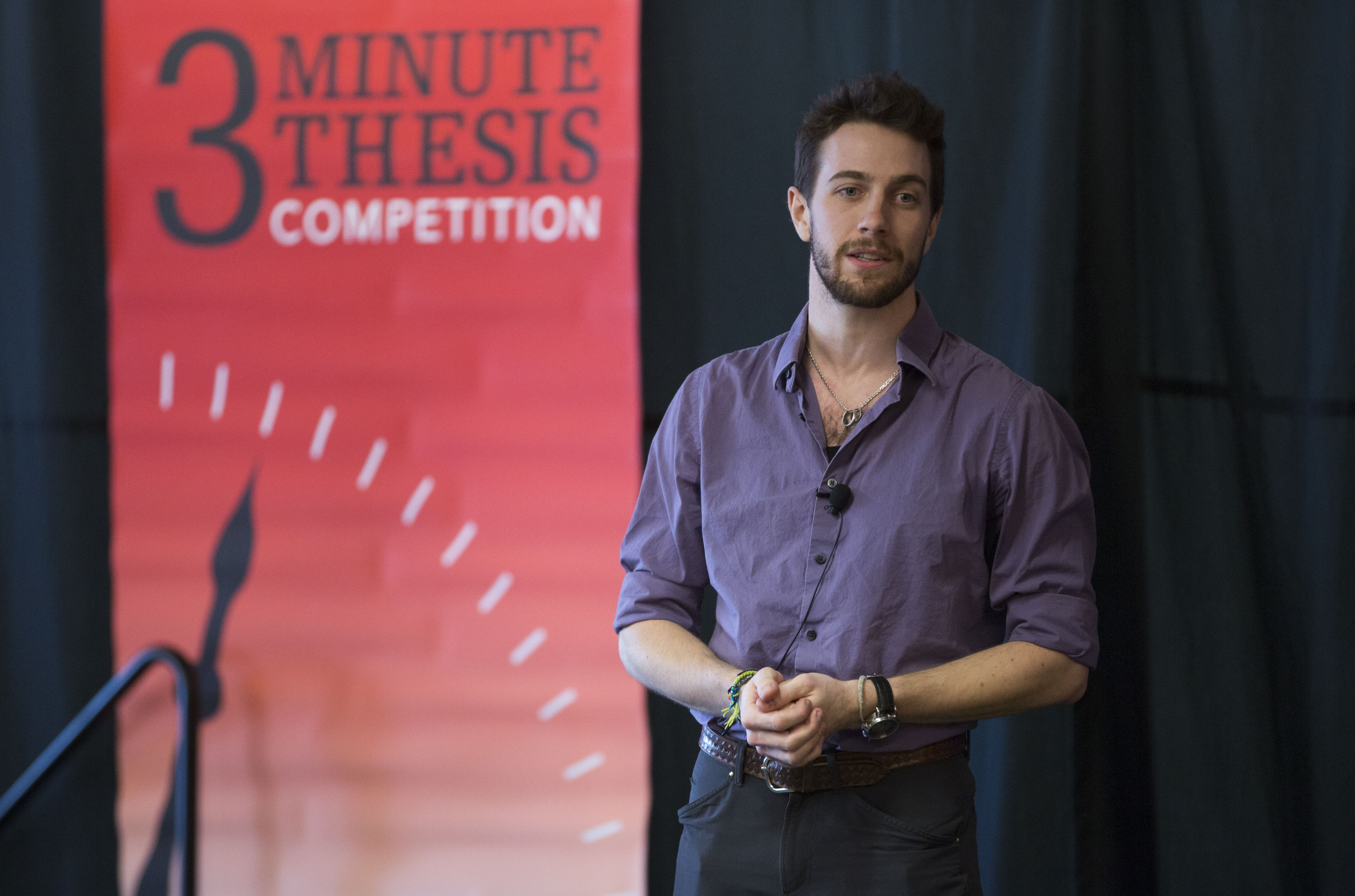 Alicia Gal (Systems & Computer Engineering): Gait Up and Walk With Me
Blake Green (Chemistry): Can We Push Out the Cheaters?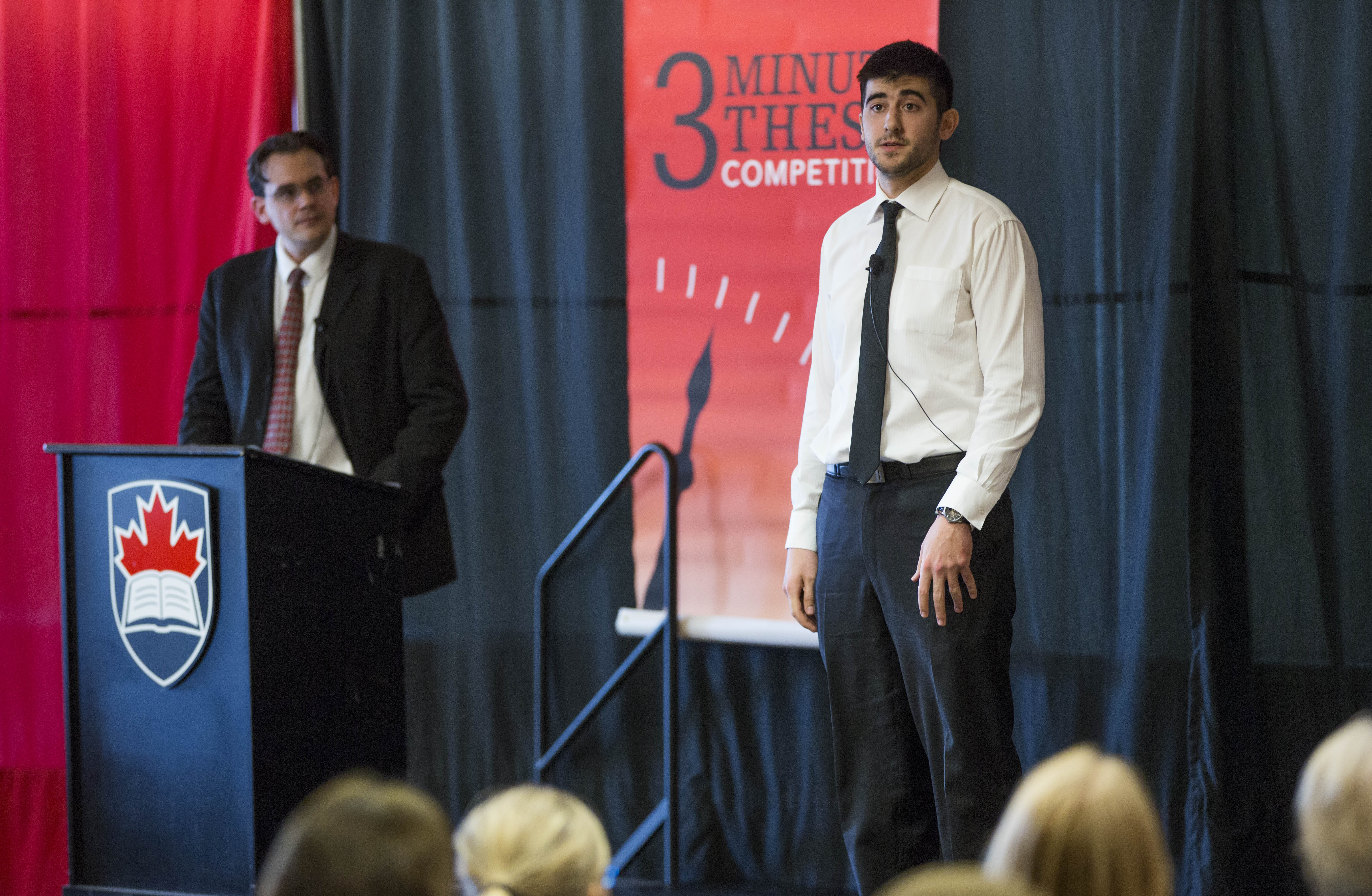 Sandy Lam (Health: Science, Technology and Policy):  Reimagine Aging Together
Ewan Reid (TIM): Entrepreneurship in New Space
Anna Tomczak (Health: Science, Technology and Policy): Through Seniors' Eyes: Age-Friendly Communities and Quality of Life
Lisa Wright (Law & Legal Studies): Boundaries of Harm Reduction
Our thanks to this year's judges and the Graduate Students' Association for hosting the post-social event.
About the 3MT
On March 1st, students, staff, faculty and community members watched the exciting 3MT competition, featuring contestants from four faculties and from across many departments.
The 3MT is a celebration of graduate student research that challenges grad students to communicate the key concepts of their research in a compelling presentation of three minutes or less. The Carleton 3MT began in 2013 and has grown in popularity every year. A panel of judges from within Carleton, the Ottawa community and from the Graduate Students' Association evaluates each of the brief, compelling presentations. This year, City Councillor Catherine McKenney acted as a judge.
Participation in the 3MT can be tremendously enriching, both academically and personally. Winners receive cash prizes and the opportunity to represent Carleton at the provincial competition in April. Former participants report that competing in the 3MT helped to build confidence and enhance their academic, presentation, and communication skills. Participants also enjoy great research exposure within Carleton, to other departments, and even in media. 3MT participants have been featured in Carleton news stories, departmental websites, YouTube, CBC Radio, and the Ottawa Citizen. Join us on March 1st, as a participant, a future participant, or an audience member!  More info.
Scroll down to watch compelling videos of last year's finalists, and check out our resource page for more videos and information.
Prizes
1st place – $1000
2nd place – $500
3rd place – $250
People's Choice – $250
2015 Competition
Congratulations to all 28 graduate students who participated in last year's Three Minute Thesis Competition. All of the competitors were outstanding!
The winners were:
1st place:  Ann Morneau (Women's and Gender Studies) for her presentation entitled "Knitting Takes Balls".  Morneau wins $1000 prize money for 1st place and an additional $250 as she also won the People's Choice Award. She also had all expenses paid to travel to London, Ontario to complete at the Provincial 3MT competition at Western University on April 23, 2015.

2nd place: Sahil Dhawan (Civil and Environmental Engineering) for his talk entitled "Biofiltration – A Sustainable Water Treatment Technology". He wins $500.
3rd place: Janna Klostermann (SLaLS) for her presentation "Cubicles for Artists". She takes home $250.
Congratulations to the remaining seven finalists.
Jessica Speir (Human-Computer Interaction)
Daniella Niyonkuru (Systems & Computer Engineering)
Jean-Daniel Medjo (Systems & Computer Engineering)
Harry Mackay (Neuroscience)
Mohamed Abdelazez (Systems & Computer Engineering)
Eve-Marie Blouin-Hudon (Psychology)
Ian Wereley (History)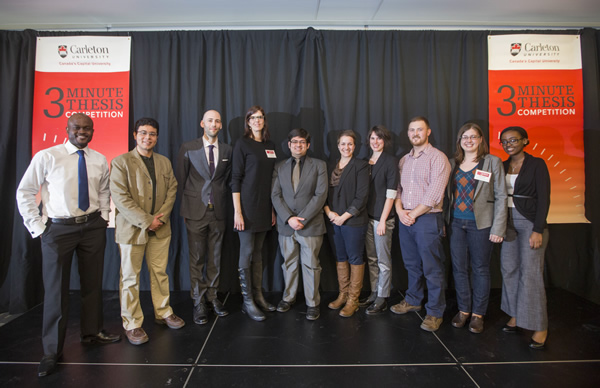 Twenty-eight Carleton graduate students competed on March 3, 2015 by presenting their 3MTs to a panel of judges consisting of members of GSA, Carleton faculty and staff, and the community. 3MT presentations were judged on the basis of communication style, comprehension, and engagement.
Twitter @CUGradStudies, #CU3MT
3MT 2014
The Top Three Winners of Carleton's 2014 Three Minute Thesis competition were:
First Place – Martha Attridge Bufton (History) who spoke on "Radical Roses, Women, Unions, and Social Justice at Carleton University, 1973-76″.  
Second Place – Hadrian Mertins-Kirkwood (Political Economy) for his presentation on "Unmasking the Trans-Pacific Partnership Free Trade Agreement".
Third Place – Christopher Burt (Human-Computer Interaction) for his presentation entitled "Having Fun Working Out: Adaptive and Engaging Video Games for Exercise". 
Rounding out the list of Top 10 Finalists were:  Heather Auld and Samantha Frasz (Biology), Colin Capaldi and Kojo Mintah  (Psychology), Elizabeth Rousseau (Cognitive Science), Robin MacEwan (Social Work), and Jean-Daniel Medjo (Systems & Computer Engineering).