The Three Minute Thesis (3MT®) is an academic research communication competition developed by The University of Queensland (UQ), Australia.
3MT 2018
Details about the next 3MT competition will be posted in the near future. Stay tuned!
Congratulations to the winners of Carleton's 2017 3MT:
First Place: Samuel Dubois, Architecture. He also won the People's Choice Award. The title of his presentation is "Mining for Thetford's Identity: Reclaiming the Mines Sites of a Former Asbestos Town."Samuel also represented Carleton at the Provincial 3MT competition hosted by the University of Waterloo. He gave an outstanding performance.
Second Place: Sanita Fejzic, English. The title of her 3MT presentation is "Truth-Telling in Fiction: Inspiring Empathy."
Third Place: Derrick Matthew Buchanan, Neuroscience.  The title of his 3MT presentation is "Brain Stimulation as a Cost-Effective Treatment for Mental Illness and Neurological Disorders."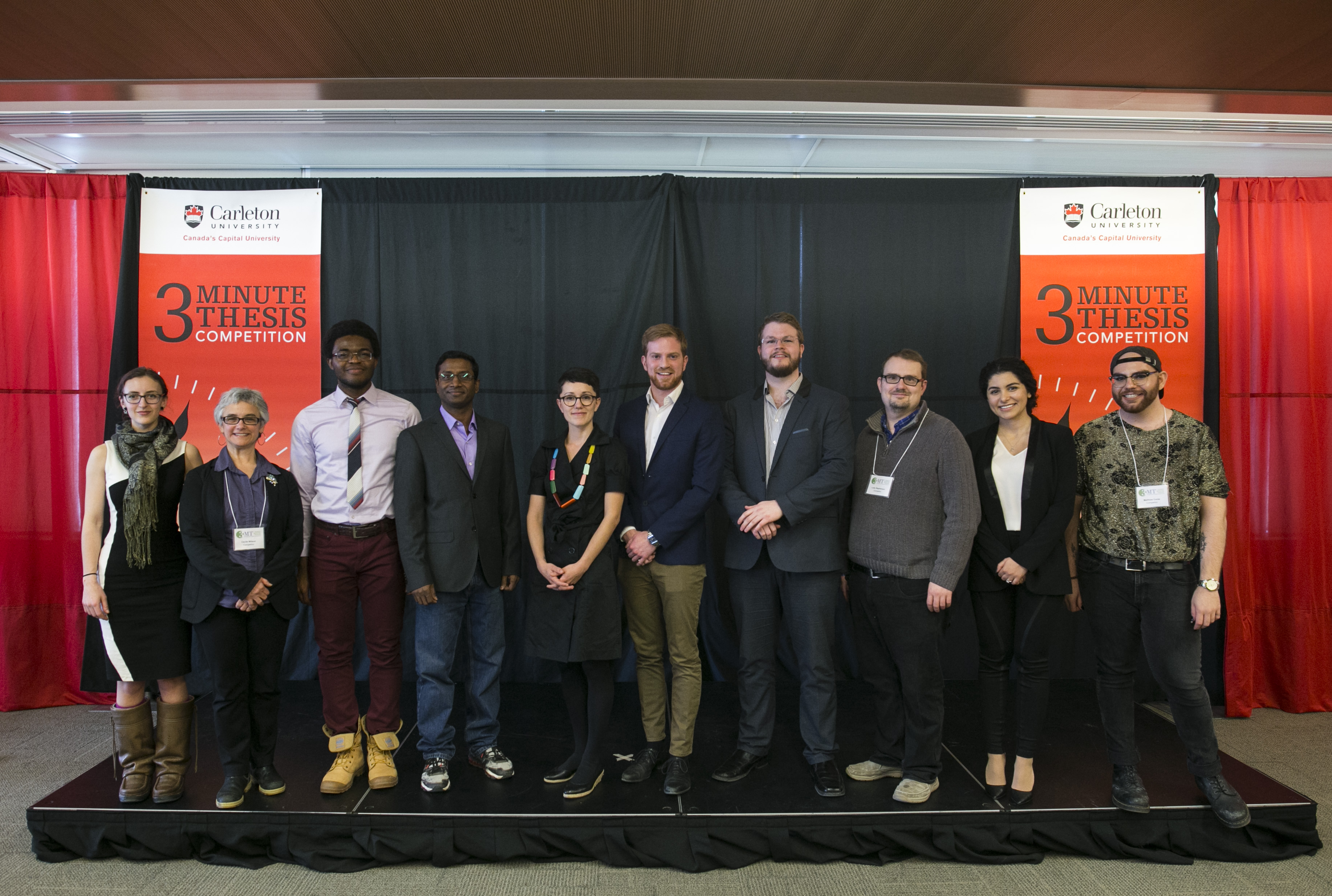 Other Top 10 finalists were:
Charles Ozzoude, Master's Health Science, Technology, and Policy
Sujit Das, PhD Civil Engineering
Isis Bennet, Master's Civil Engineering
Cecile Wilson, PhD Cultural Mediations
Irem Bor-Yaliniz, Electrical and Computer Engineering

Matthew Conte, Master's Women's and Gender Studies
Luke Stephenson, PhD Information Technology
Members of the 3MT Finals Judging Panel were:
• Dominique Bérubé, Vice President, Research Programs, Social Sciences and Humanities Research Council
• Don Cumming, Director, University Communications, Carleton University
• Jeanette Southwood, Vice President, Strategy and Partnerships, Engineers Canada
• Ruth Zowdu, Managing Editor, CBC Ottawa
About the 3MT
The 3MT is a celebration of graduate student research that challenges grad students to communicate the key concepts of their research in a compelling presentation of three minutes or less. The Carleton 3MT began in 2013 and has grown in popularity every year. A panel of judges from within Carleton, the Ottawa community and from the Graduate Students' Association evaluates each of the brief, compelling presentations.
Participation in the 3MT can be tremendously enriching, both academically and personally. Winners receive cash prizes and the opportunity to represent Carleton at the provincial competition in April. Former participants report that competing in the 3MT helped to build confidence and enhance their academic, presentation, and communication skills. Participants also enjoy great research exposure within Carleton, to other departments, and even in media. 3MT participants have been featured in Carleton news stories, departmental websites, YouTube, CBC Radio, and the Ottawa Citizen. The top two competitors are typically featured on the front of the general graduate brochure produced by the Faculty of Graduate and Postdoctoral Affairs.
Cash prizes are: 1st ($1000), 2nd ($500), and 3rd place ($250) winners and the People's Choice winner ($250). The 1st place winner will also receive an expenses-paid trip to compete in the 3MT provincial competition.
Scroll down to watch compelling videos of previous finalists, find out about rules and eligibility, and check out our resource page for more videos and information. If you have any questions about the 3MT contest, please email David Lafferty.
3MT Competition Videos
2016 Competition
The 2016 Three Minute Thesis Competition was held on March 1. Congratulations to the winners. Our thanks to this year's judges and the Graduate Students' Association for hosting the post-social event.
2015 Competition
2014 Competition
The Top Three Winners of Carleton's 2014 Three Minute Thesis competition were:
Rounding out the list of Top 10 Finalists were: Heather Auld and Samantha Frasz (Biology), Colin Capaldi and Kojo Mintah (Psychology), Elizabeth Rousseau (Cognitive Science), Robin MacEwan (Social Work), and Jean-Daniel Medjo (Systems & Computer Engineering).