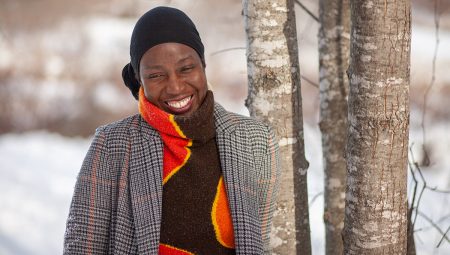 Nadine Powell is a PhD student in Sociology with specializations in Migration and Diaspora Studies and Political Economy.
Her research combines  race history, diaspora studies, as she explores how food has played a role in the lives of Jamaican migrants. Powell is researching political themes of food, trying to understand  how people organize toward social change using food. She is guided by seminal works of Paul Gilroy and Stuart Hall among other significant racialized scholars.
Powell is focusing her research on current and generational experiences of Jamaican immigrants in Toronto and in Winnipeg where she grew up. Additional research interests include race at the intersections of disability and class (economic diversity) and conceptualizing Blackness among the African and Black diaspora.
Powell has an academic background in Religion and Culture and Conflict Resolution Studies from the University of Winnipeg and completed bachelor's and master's degrees in Social Work at McGill University. She sees her multidisciplinary academic experiences as influential to her present studies.
Powell was a collaborator on the Barbershop Talks forum where community members discuss ideas of Blackness and gender and has contributed to the School of Social Work's Black History Committee.
"The ideas that get exchanged in those spaces, just like the ones we exchange while cooking meals, can be very profound," says Powell. "It's no secret that living as a Black person means you're always dealing with the reality and politics of difference."
Tuesday, April 6, 2021 in Grad Student Research, News
Share: Twitter, Facebook