Ninth Annual 2018 Faculty Graduate Mentoring Awards
Nominations are now open for the 2018-19 annual Faculty Graduate Mentoring Awards. Sponsored by the Faculty of Graduate and Postdoctoral Affairs and the Office of the Vice-President (Research and International), these awards recognize faculty who render exceptional service to graduate students as supervisors and research mentors.The effect of such faculty on the careers of students is frequently transformational.
In order to be considered for an award, faculty must be nominated. Nominators can be current and/or former graduate students, faculty members, and/or staff. Nominations from former and/or current graduate students are particularly welcomed.
Nominations should include a statement of no more than 500 words, attesting to the nominee's exceptional contribution to graduate student supervision and research mentorship. The nomination letters should also include your name and student number. Each individual must submit his/her own nomination. Nominees from previous years who have not won the award may be nominated again.
Nominations must be sent as an electronic attachment in ".pdf" format by November 23, 2018 to FGPA.EA@cunet.carleton.ca.
Details about the award and how to nominate someone are available in our Frequently Asked Questions document. Please note that, if your professor wins, by submitting a nomination, you are agreeing to allow the FGPA to post excerpts from your nomination on the Carleton University website.
Eighth Annual 2017 Faculty Graduate Mentoring Awards
On March 6, 2018 seven faculty members were presented with a 2017 Faculty Graduate Mentoring Award. Congratulations to all!  Below are the winners and quotes taken from their nominators' letters.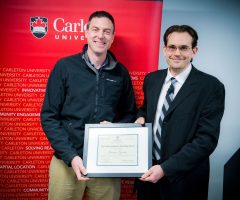 James R. Green (Systems & Computer Engineering)
Green is an outstanding teacher and communicator who cares deeply and sincerely about the success of his graduate students and undergraduate students alike….he is always willing to lend an ear and to suggest new and creative ways to tackle problems.
Students of the Dr. Green lab are continually pushed to achieve academic and professional excellence….
He was my top choice for a supervisor within either uOttawa or Carleton due to his expertise in both computer engineering and bioinformatics so I was thrilled that he was also a caring and modest man who was interested in taking me on.
That is what makes Dr. Green a natural and selfless mentor, his desire to provide mentorship to any graduate student, regardless if he is their supervisor or not.
So overall, Prof. Green is just amazing. I think I'm lucky to work with him, and I think Carleton is lucky to have him.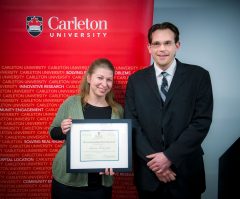 Irena Knezevic (Communication Studies)
Knezevic is an outstanding and generous role model who is highly regarded by every graduate student in the department….Dr. Knezevic's genuine compassion and passion for teaching is obvious, and demonstrated by her intense and obvious dedication to student learning and achievement.
I looked forward to her class each week because it was not only practical, but she encouraged discussion, debate and listened to all points of view.
She embodied the essence of this award. It is true that she transforms her graduate students' lives for the better….She is not only an asset to the department, but the rarest of gems who has transformed me to become a better researcher and a thoughtful graduate student.
Irena will walk through fire to see her students excel professionally by connecting to valuable conferences, events and job postings.
She made me feel heard, understood and worth investing in.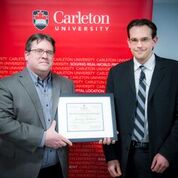 Jeremy Laliberte (Mechanical & Aerospace Engineering)
Between his insight, experience and industry connections, Prof. Laliberte has mentored his students through the most difficult challenges they have faced.
Jeremy has been a tremendous supervisor, mentor and friend. He has gone above and beyond what is required of an academic supervisor…
Jeremy is professional, patient, optimistic and always retains a positive attitude towards education. His blend of engineering prowess, approach to teaching, mentoring style and inclination to promote understanding through assisted self-education makes him an excellent mentor.
He goes the extra mile to support us. He responds to emails promptly, even in the weekends and in his vacation. His office door is always open to questions and intellectual discussions. He has created an exceptionally productive space for our research group.
He has taught and encouraged me to meet challenges that I had never before thought possible.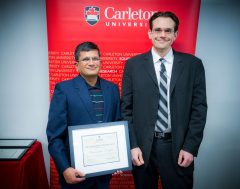 Sreeraman Rajan (Systems & Computer Engineering)
Rajan is more invested in his students' wellbeing than any other educator I have come across in my academic life.
Each time that I had a meeting with him, I saw a lot of students who wanted to meet him and ask their problems. Interestingly, he never told them I am busy or you can ask your question only in office hours.
Rajan's main goal is not only for his students to get a good grade; it is to pass on his knowledge, passion and expertise to foster model students that will take on tomorrow's challenges.
I just don't view Dr. Rajan as my mentor but I also view him as a father figure that is there to guide me in my life.
He helped me a lot during my transition to Canada from a foreign land and helped me to integrate with this system
…knowing that I can seek his mentorship any time even after I graudated makes me admire his charactertics and encourages me to follow pursuit and aid others similarly myself.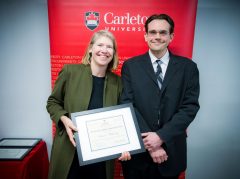 Susan Whitney (History)
Professor Whitney has spent countless hours discussing my research with me…I am amazed by her generosity and that she somehow always manages to make time for me no matter how busy she might be.
Susan's encouragement and guidance were absolutely essential to me during the completion of my degree.
She has an encyclopedic knowledge of the literatures of modern history and has taught me how to bring them to bear on my own work. She inspires me to form my own academic perspective while holding me to the highest scholarly standards.
The successful completion of my PhD dissertation – accepted without need for revisions – was largely due to Dr. Whitney's critical eye and intellectual curiosity.
I not only look up to her as a gifted historian and mentor, her commitment to her students truly sets her apart.
Not only does she help me with my studies, providing significant and helpful comments for me to improve my work, but she has taken the time to get to know me, my family, and my challenges so she is uniquely capable of supporting me….I couldn't have asked for a better mentor and role model.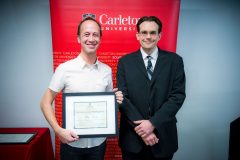 Alex Wong (Biology)
To be supervised under Alex Wong is truly a privilege and a blessing.…Alex's support for his graduate students is profound….He is truly an amazing person, professor, scientist and supervisor, who will always be instrumental in where I am today.
He treats me, and all of my lab mates, with absolute respect and treats us as equals…he makes our lab not only an amazing place to be,,,but he makes it feel like a family, where he celebrates everyone's successes and is always there to lift you up and encourage you to do your best.
No matter what, his door is always open in you need anything and he is quick to answer frantic texts or emails.
Alex's availability and approachability make him an amazing mentor, perhaps the best mentor ever….His "chill humour" and open-door policy illustrate Alex's approachable personality.,
I find it hard to imagine a better supervisor.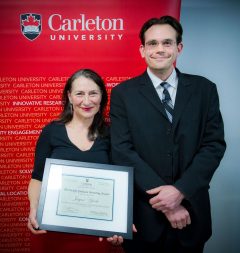 Jayne Yack (Biology)
Jayne is very communicative to all her students. She meets us often to discuss our projects and replies to emails very fast, even on the weekends and holidays. If it is late at night and you need to ask her any questions, you can be sure that by 5 AM in the next day, there will already be a response.
She cares very much about the quality of the work of her students and she has put a lot of effort into helping me make sure my work is of high quality….She understands that student's lives continue outside of school and is always willing to help her students in any way she can.
Not only is she approachable and has a positive rapport with her students, she also inspired me to get to love insects and butterflies in a way that I never knew I could.
There have been several times when I was struggling with so many thing be it personal or professional, Jayne has been a constant source of motivation and strong pillar of strength…she always motivated me by always reminding that "Persistence + vigilance + problem solving = Success".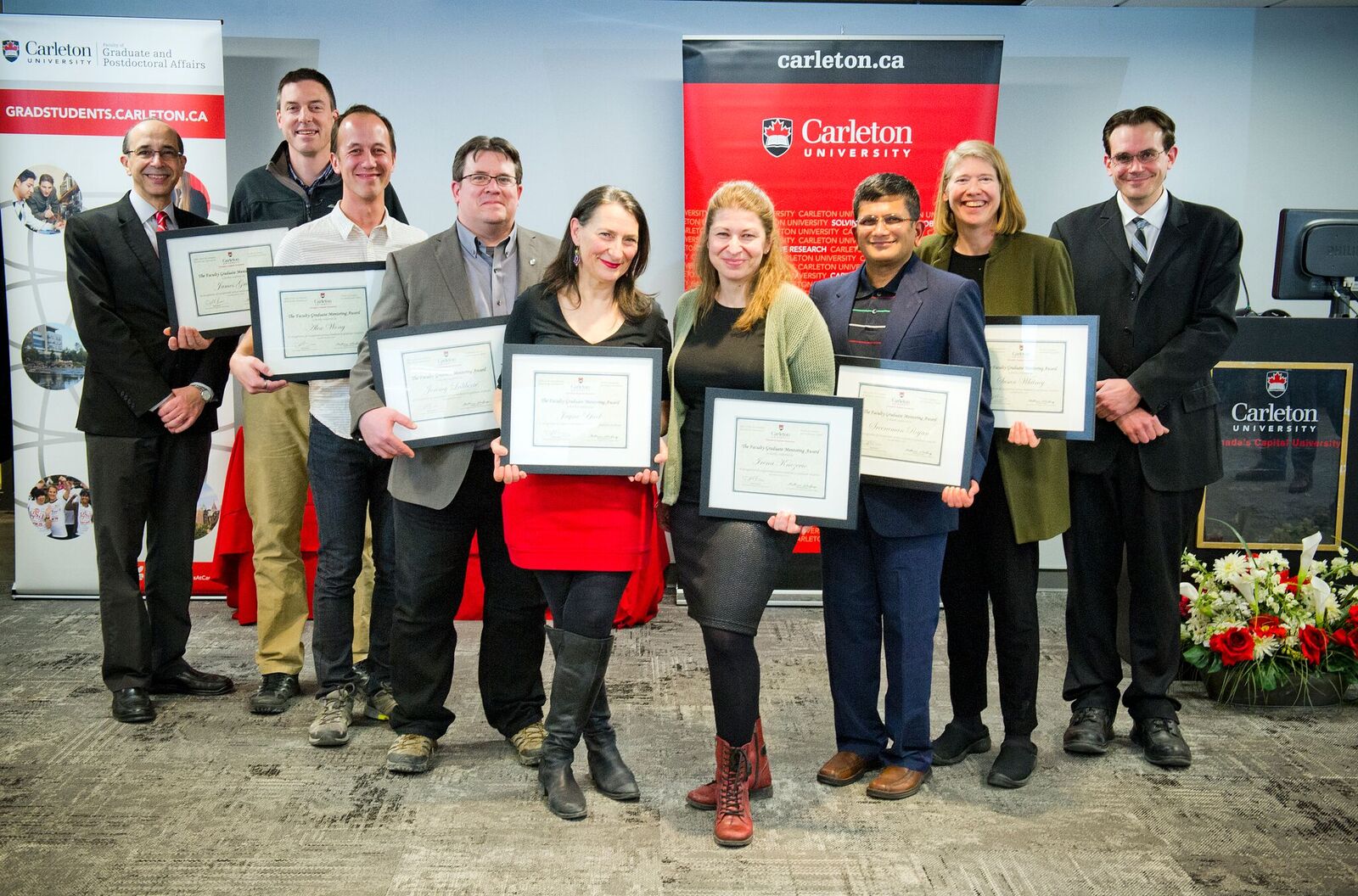 Seventh Annual 2016 Faculty Graduate Mentoring Awards
On March 1, 2017 seven faculty members were presented with a 2016 Faculty Graduate Mentoring Award. Congratulations to all!  Below are the winners and quotes taken from their nominators' letters.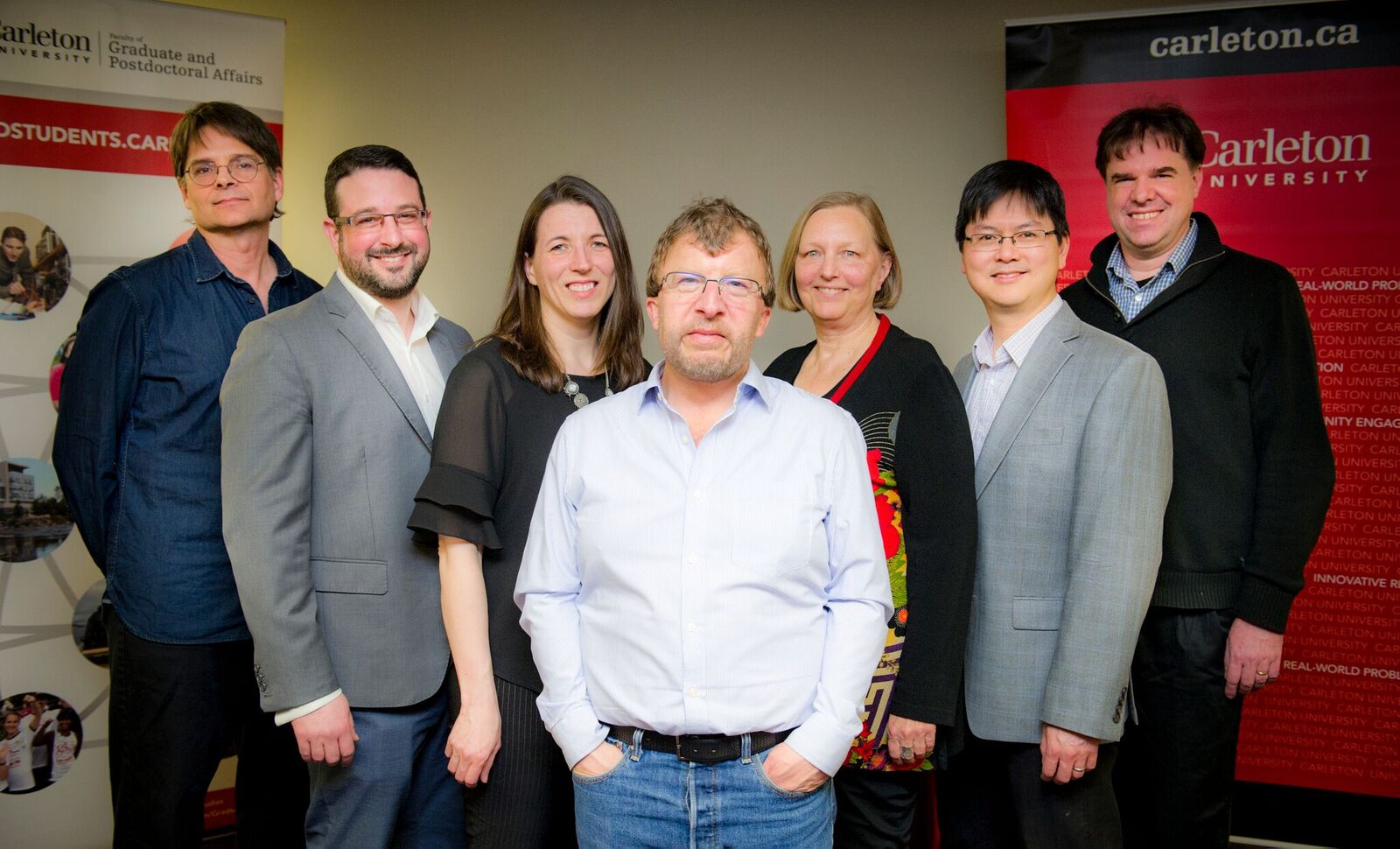 Below are the seven winners of the 2016 awards
Adrian Chan – Systems and Computer Engineering
Sonia Chiasson – Computer Science
Ian Marsland – Systems and Computer Engineering
Janet Siltanen – Sociology
Myron Smith – Biology
Dwayne Winseck – Communication
Michael Wohl – Psychology
Winners of the 2015 Carleton Faculty Graduate Mentoring Awards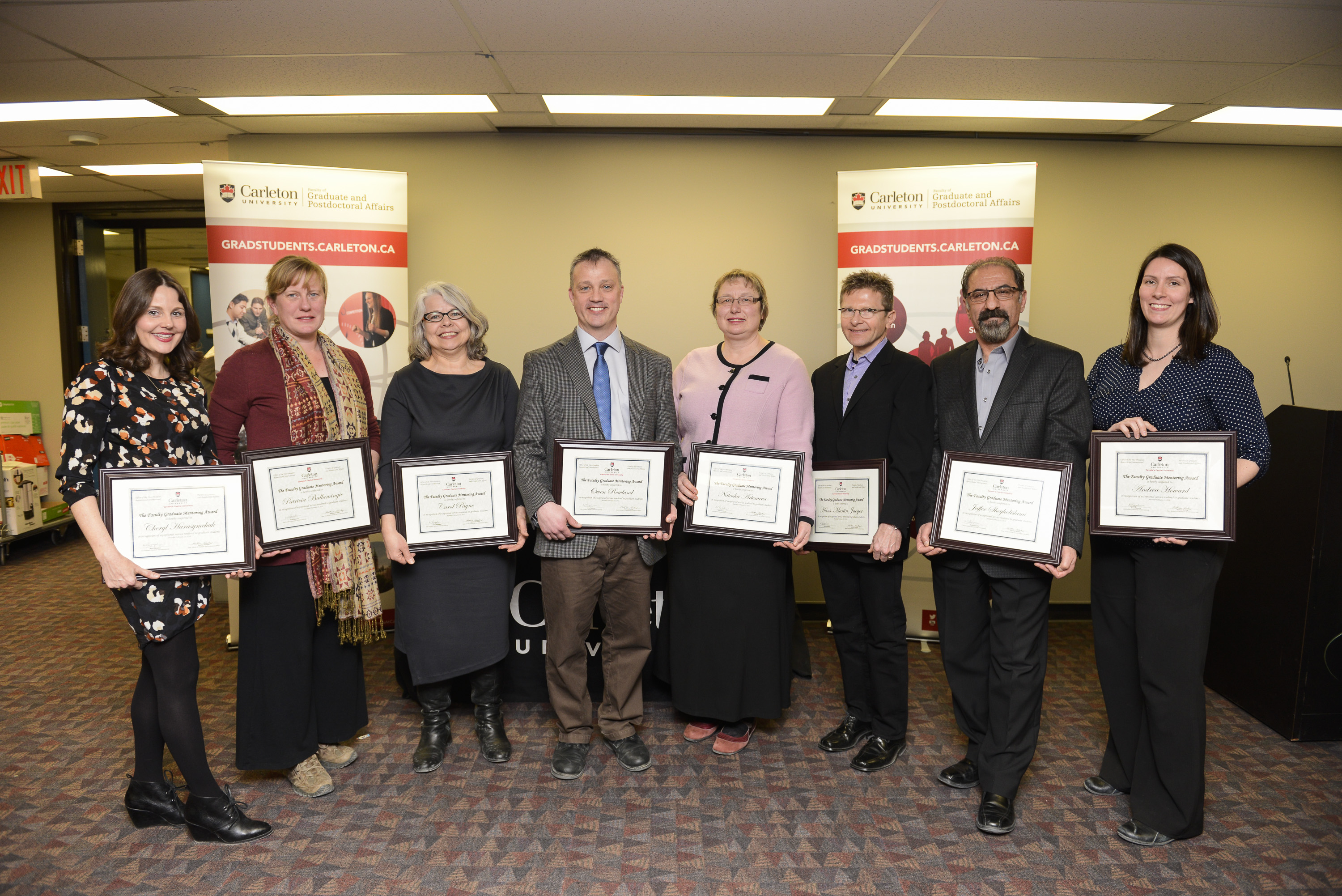 Below are the eight winners of the 2015 Faculty Graduate Mentoring Awards.
Natasha Artemeva – Linguistics & Applied Language
Patricia Ballamingie – Geography and Environmental Studies
Cheryl Harasymchuk – Psychology
Andrea Howard – Psychology
Hans-Martin Jaeger – Political Science
Carol Payne – Art History
Owen Rowland – Biology
Jaffer Sheyholislami – School of Linguistics and Applied Language

Winners of the 2014 Awards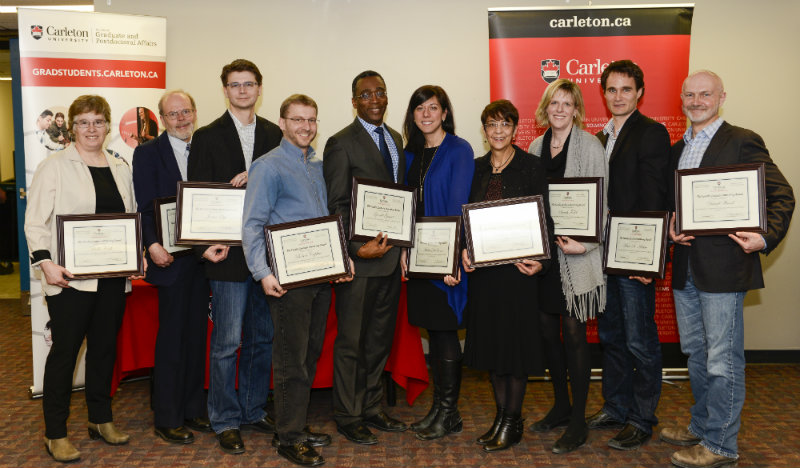 Robert Coplan – Psychology
Maria DeRosa – Chemistry
Adelle Forth – Psychology
Gerald Grant – Sprott School of Business
James Opp – History
Cristina Rojas – Political Science, NPSIA
Marc St-Hilaire – School of Information Technology
Garry Tarr – Electronics
Sarah Todd – Social Work
David Wood – School of Linguistics and Language Studies
Winners of the 2013 Awards
Jit Bose – Computer Science
Steven Cooke – Biology
Matthew Holahan – Neuroscience
Deepthi Kamawar – Cognitive Science & Psychology
Evangelos Kranakis – Computer Science
Evelyn Maeder – Criminology & Psychology
Isaac Otchere – Business
Joanna Pozzulo – Psychology
Paul Van Geel – Civil and Environmental Engineering
Paul Van Oorschot – Computer Science
Winners of the 2012 Awards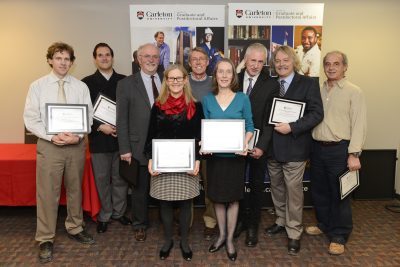 Hymie Anisman – Neuroscience and Health Psychology, Canada Research Chair in Neuroscience
Andrew Brook – Philosophy and Cognitive Science
Aaron Doyle – Sociology and Anthropology, the Institute of Criminology and Criminal Justice & the Institute of Political Economy
Linda Duxbury – Sprott School of Business
Lenore Fahrig – Biology
Matthew Johnson – Mechanical and Aerospace Engineering & Canada Research Chair in Energy and Combustion Generated Air Emissions
Nicolas Papadopoulos – Sprott School of Business
Timothy Pychyl (Psychology & the School of Linguistics and Language Studies
Claire Samson – Earth Sciences
Gabriel Wainer – Systems and Computer Engineering
Winners of the 2011 Awards
Alfonso Abizaid – Department of Neuroscience
Susan Bertram – Department of Biology & Assistant Dean, Faculty of Science
Amir Banihashemi – Department of Systems and Computer Science
Lorraine Dyke – Sprott School of Business
Uma Kumar, – Sprott School of Business & Director, Research Center for Technology Management
Jo-Anne LeFevre – Director, Institute of Cognitive Science
Banu Örmeci – Canada Research Chair in Wastewater and Public Health Engineering & Department of Civil and Environmental Engineering
David Rogers – Canada Research Chair in Medical Physics & Professor, Department of Physics
Roland Thomas – Sprott School of Business
Bill Willmore – Institute of Biochemistry, Departments of Biology and Chemistry
Winners of the 2010 Awards
Sue Aitken – Department of Biology and Institute of Biochemistry
Craig Bennell –  Department of  Psychology
Josh Greenberg – School of Journalism and Communication S
Sheryl  Hamilton – School of Journalism and Communication
Louise A.  Heslop –  The Sprott School of Business
Norman Hillmer – Department of History
Vinod   Kumar – The Sprott School of Business
Thomas Kunz – Department of Systems and Computer Engineering
Ken Storey –  Department of Biology, Department of Chemistry and Institute of Biochemistry
Halim Yanikomeroglu – Department of Systems and Computer Engineering