Eighth Annual Faculty Graduate Mentoring Awards
The deadline for nominations has been extended until November 30, 2017!!!
Nominations for the 2017 awards are now open. Sponsored by the Faculty of Graduate and Postdoctoral Affairs and the Office of the Vice-President (Research and International), these awards recognize faculty who render exceptional service to graduate students as supervisors and research mentors. The effect of such faculty on the careers of students is frequently transformational.
In order to be considered for an award, faculty must be nominated. Nominators can be current and/or former graduate students, faculty members, and/or staff. Nominations from former and/or current graduate students are also welcomed.
Nominations should include a statement of no more than 500 words, attesting to the nominee's exceptional contribution to graduate student supervision and research mentorship. Each individual must submit his/her own nomination. Unsuccessful nominees from previous years may be nominated again. Previous winners are not eligible. (Scroll down to view a list of past recipients.)
Nominations must be sent as an electronic attachment in Microsoft Word or ".pdf" format by November 30, 2017 to FGPA.EA@cunet.carleton.ca.
Details about the award and how to nominate someone are available in our Frequently Asked Questions document. Please note that, if your professor wins, by submitting a nomination, you are agreeing to allow the FGPA to post excerpts from your nomination on the Carleton University website.
Please note that, if your nominee wins, you are giving FGPA permission to share your nomination letter with the winner and also share quotes from your letter online. You are also consenting to have your photo taken at the award ceremony and featured online. If you do not consent, you should contact ea@carleton.ca in advance.
The awards will be announced in late Feb., 2018.
Seventh Annual Faculty Graduate Mentoring Awards
On March 1, 2017 seven faculty members were presented with a 2016 Faculty Graduate Mentoring Award. Congratulations to all!  Below are the winners and quotes taken from their nominators' letters.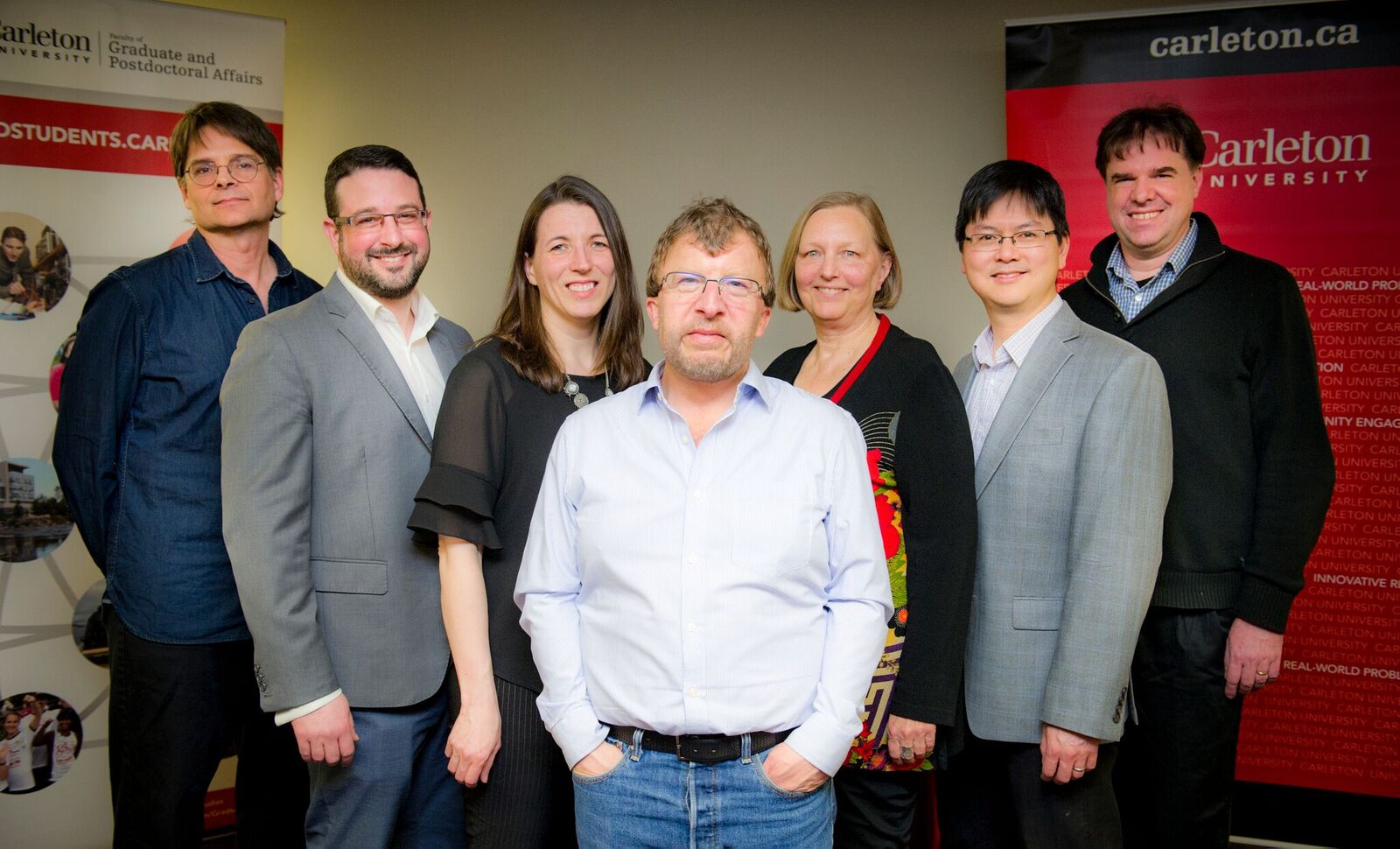 Below are the seven winners of the 2016 awards
Adrian Chan – Systems and Computer Engineering
Sonia Chiasson – Computer Science
Ian Marsland – Systems and Computer Engineering
Janet Siltanen – Sociology
Myron Smith – Biology
Dwayne Winseck – Communication
Michael Wohl – Psychology
Winners of the 2015 Carleton Faculty Graduate Mentoring Awards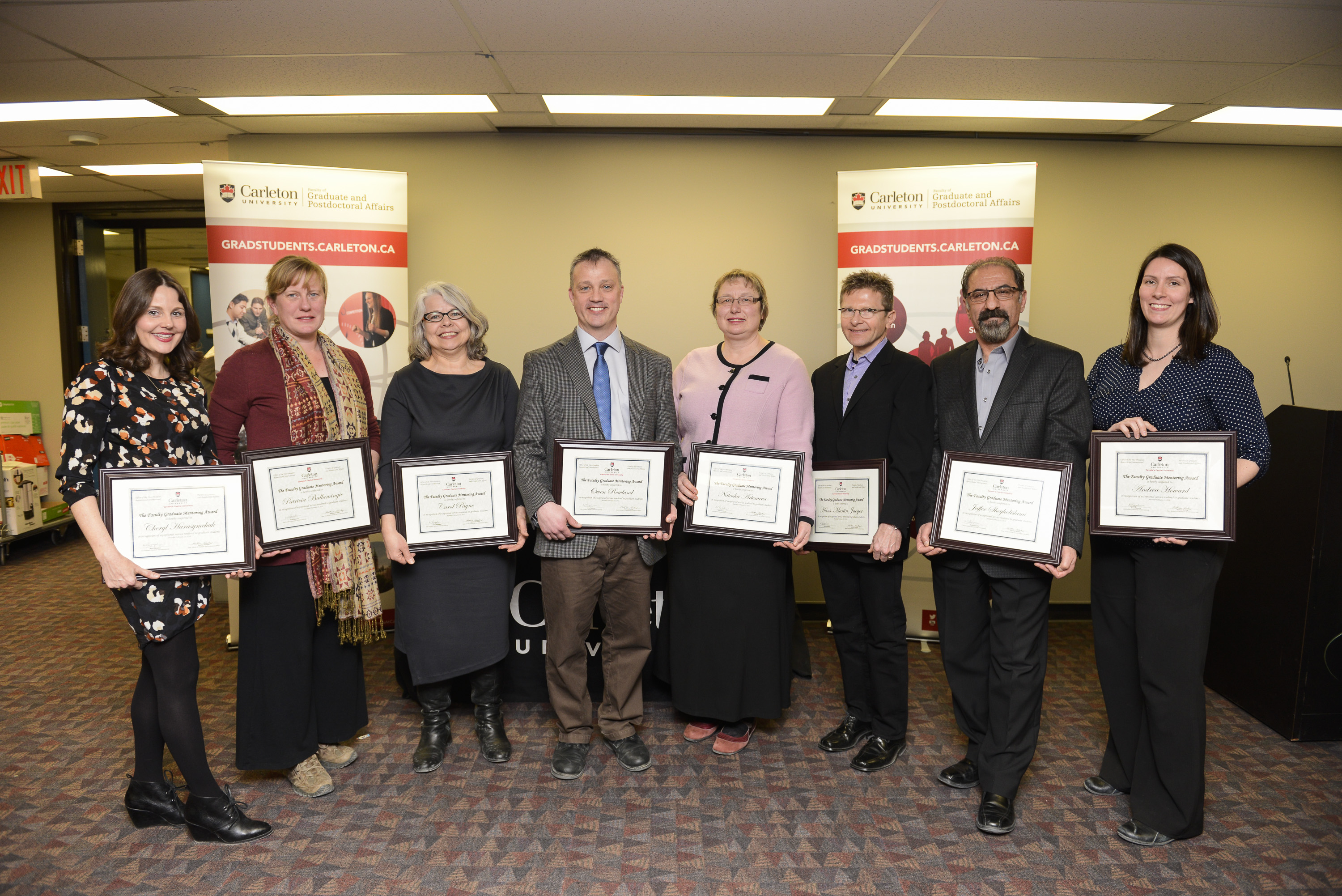 Below are the eight winners of the 2015 Faculty Graduate Mentoring Awards.
Natasha Artemeva – Linguistics & Applied Language
Patricia Ballamingie – Geography and Environmental Studies
Cheryl Harasymchuk – Psychology
Andrea Howard – Psychology
Hans-Martin Jaeger – Political Science
Carol Payne – Art History
Owen Rowland – Biology
Jaffer Sheyholislami – School of Linguistics and Applied Language

Winners of the 2014 Awards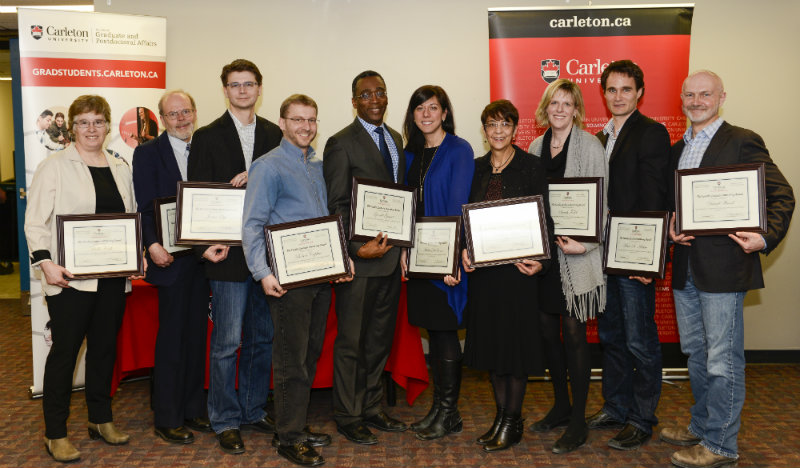 Robert Coplan – Psychology
Maria DeRosa – Chemistry
Adelle Forth – Psychology
Gerald Grant – Sprott School of Business
James Opp – History
Cristina Rojas – Political Science, NPSIA
Marc St-Hilaire – School of Information Technology
Garry Tarr – Electronics
Sarah Todd – Social Work
David Wood – School of Linguistics and Language Studies
Winners of the 2013 Awards
Jit Bose – Computer Science
Steven Cooke – Biology
Matthew Holahan – Neuroscience
Deepthi Kamawar – Cognitive Science & Psychology
Evangelos Kranakis – Computer Science
Evelyn Maeder – Criminology & Psychology
Isaac Otchere – Business
Joanna Pozzulo – Psychology
Paul Van Geel – Civil and Environmental Engineering
Paul Van Oorschot – Computer Science
Winners of the 2012 Awards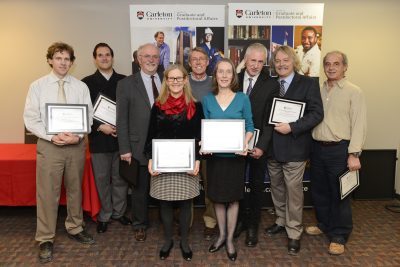 Hymie Anisman – Neuroscience and Health Psychology, Canada Research Chair in Neuroscience
Andrew Brook – Philosophy and Cognitive Science
Aaron Doyle – Sociology and Anthropology, the Institute of Criminology and Criminal Justice & the Institute of Political Economy
Linda Duxbury – Sprott School of Business
Lenore Fahrig – Biology
Matthew Johnson – Mechanical and Aerospace Engineering & Canada Research Chair in Energy and Combustion Generated Air Emissions
Nicolas Papadopoulos – Sprott School of Business
Timothy Pychyl (Psychology & the School of Linguistics and Language Studies
Claire Samson – Earth Sciences
Gabriel Wainer – Systems and Computer Engineering
Winners of the 2011 Awards
Alfonso Abizaid – Department of Neuroscience
Susan Bertram – Department of Biology & Assistant Dean, Faculty of Science
Amir Banihashemi – Department of Systems and Computer Science
Lorraine Dyke – Sprott School of Business
Uma Kumar, – Sprott School of Business & Director, Research Center for Technology Management
Jo-Anne LeFevre – Director, Institute of Cognitive Science
Banu Örmeci – Canada Research Chair in Wastewater and Public Health Engineering & Department of Civil and Environmental Engineering
David Rogers – Canada Research Chair in Medical Physics & Professor, Department of Physics
Roland Thomas – Sprott School of Business
Bill Willmore – Institute of Biochemistry, Departments of Biology and Chemistry
Winners of the 2010 Awards
Sue Aitken – Department of Biology and Institute of Biochemistry
Craig Bennell –  Department of  Psychology
Josh Greenberg – School of Journalism and Communication S
Sheryl  Hamilton – School of Journalism and Communication
Louise A.  Heslop –  The Sprott School of Business
Norman Hillmer – Department of History
Vinod   Kumar – The Sprott School of Business
Thomas Kunz – Department of Systems and Computer Engineering
Ken Storey –  Department of Biology, Department of Chemistry and Institute of Biochemistry
Halim Yanikomeroglu – Department of Systems and Computer Engineering