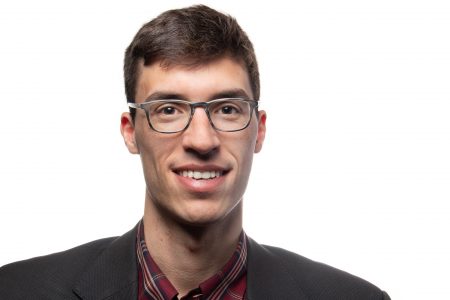 By Karen Kelly
The specter of Russian interference in the 2016 U.S. presidential election affected the American political landscape for years afterward. But that is only one of many examples of election interference on the part of the Cold War superpowers, as graduate student Marshall Palmer explains in his three-minute video submission to the SSHRC Storytellers Challenge. Palmer has been named one of the top 25 storytellers in the competition.
"One of the most surprising findings I've made is that most of the time, the intervenors got what they wanted," says Palmer, a PhD candidate in the Norman Paterson School of International Affairs (NPSIA).
Palmer pored over declassified archives from both the CIA and the KGB, studying more than 30 interventions carried out by the U.S. or the Soviet Untion. He chose to focus on interference in the 1962 and 1963 Canadian federal elections, at the height of the Cold War.
"Those two elections were among the most influential elections in Canadian history. They were about Canada's status as a nuclear power, our role within NATO and as an American ally. Most broadly, these elections were about Canadian identity and what nationalism in Canada would look like as the British empire receded from view," says Palmer.
According to historical records, President John F. Kennedy wanted Canada to establish long-range anti-aircraft Bomarc missiles with a nuclear payload on Canadian soil. While Prime Minister John Diefenbaker purchased the missiles, he did not accept the nuclear capability. Liberal leader Lester B. Pearson was not keen on nuclear weapons but, by contrast, he saw their political advantage. In the lead-up to the 1963 election, he advocated that Canada accept this capability. According to Palmer, Kennedy liked Pearson and began taking steps to damage Diefenbaker and promote Pearson.
"My own read of the documents is that Kennedy fostered an environment where subordinates felt confident to undermine the Diefenbaker government, and that Kennedy hustled his press contacts to disparage Diefenbaker," says Palmer, who worked at NATO's military headquarters in Belgium before pursuing his PhD. "That said, Diefenbaker made some key mistakes of his own, which Kennedy and his team easily exploited."
In the end, Pearson's Liberals won the 1963 election. That December, Bomarc missiles stationed in Ontario and Quebec were armed with American nuclear warheads.
The SSHRC Storytellers Challenge will announce the final five winners on May 16, 2022.
Thursday, April 14, 2022 in Awards, Awards of Distinction, News
Share: Twitter, Facebook