A virtual reality casino, electronic gambling machines and a blackjack table that simulates a casino environment….these are all housed in the Carleton University Gambling Laboratory (CUGL).
While working as a Research Assistant in the lab, Melissa Salmon quickly discovered that an astonishing number of people who suffer from gambling addictions are reluctant to change their behavior and an even lower number of individuals are willing to seek treatment. "This is problematic as gambling addiction can result in physical, psychological and interpersonal harms," says Salmon.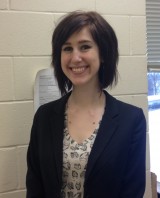 Now, with an $8,000 KTE Fellowship from the Ontario Problem Gambling Research Centre, Salmon will begin her MA in Psychology this fall at Carleton under the supervision of Dr. Michael Wohl, the director of CUGL. "He is a leading expert in the field of problem gambling research and is focused on promoting responsible gambling," notes Salmon.
Salmon explains that her research focuses on aspects of a person that promote healthy behaviour changes among people experiencing gambling-related problems. "With my findings, I hope to increase awareness of the harms of gambling, as well as promote various avenues for behaviour change."  She will also explore characteristics of those people who do seek help versus those who don't.
Salmon will use her grant to help fund her research and associated costs such as travelling to conferences or meeting with project partners.  She will also benefit from a $28,000 (USD) award granted to Carleton gambling expert Dr. Michael Wohl from the National Center For Responsible Gambling.
In the following video, PhD student Travis Sztainert explains more about his research in the CUGL lab.
Wednesday, August 13, 2014 in Awards, Grad Student Research
Share: Twitter, Facebook