Moving to a new country has its challenges, from adjusting to new ways of life, to planting your roots in a new setting. Malek El Kouzi, who is about to graduate with his master's degree from the School of Information Technology and PhD candidate Omar Bani-Taha have experienced being a newcomer to Canada first-hand.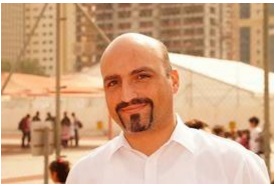 "Even though I came to Canada as a skilled immigrant, it was really hard for us to adopt a new way of living," explained El Kouzi. "My wife has a bachelor's degree in physics but she couldn't find a suitable job for her educational level. Neither did I when we first came to Canada."
El Kouzi found himself working various jobs such as working in retail and as a technology instructor at the Ottawa Chinese Community service. In 2017, he made the decision to continue his education in Canada after receiving an email from the Ottawa World Skills Employment Centre mentioning that the IT department at Carleton University was having an information session.
"I was so excited to attend," emphasised El Kouzi. "I went there and watched while Professor Ali Arya and former Graduate Administrator Erenia Oliver talked about the University and the IT program. I felt very thrilled to know about the program and knew that this program is just what I needed. They had this kind of friendly personality, which made me feel welcomed before I even applied. At the end of the session I was convinced that I have to apply to the program."
El Kouzi noted that he faced some obstacles in his pursuit of his master's degree. The biggest one was "financial". He wondered where he would get money to pay his program fees and how he could support his family?  He also needed to find a supervisor.
"So, I contacted Erenia who informed me about OSAP funding to cover the fees and suggested I contact Professor Arya. I went to meet him and, at the meeting, I found that the obstacles started to move away, and a light started to shine my way."
He says that Prof. Arya told him exactly what to do, including asking Prof. Chris Joslin to be his supervisor.
"Professor Joslin was very helpful and understandable and found good potential in my qualifications. He accepted to supervise me with Professor Arya, and I was glad that they have provided me with some financial support by allowing me to work as a teaching assistant and research assistant in the department."
Dr. Ali Arya connected El Kouzi with his PhD student Omar Bani-Taha as he knew of their common interest in researching newcomers. Through further talk, El Kouzi and Bani-Taha were able to narrow down their research focus and work together to make moving to a new country easier for children.
Both students have been working together to research newcomer children's behavioural adaption. They are looking at digital technology solutions for the problems they experience that are focused on game-based learning and digital storytelling.
"My motivation to carry on research in this area stems from being a newcomer in Canada with my family," explained Bani-Taha. "We have been experiencing the transitional period to integrate in our new way of living. However, there are still some issues not settled yet, and it may take generations to be solved. One of these issues is our children's social adjustment. While my wife integrated quickly after completing her master's degree in health education and working as a crisis counsellor for immigrant women with a non-profit organization, she confirmed that social adjustment is one of the pressing and critical issues that most newcomers suffer."
Both students believe that providing support for newcomer children through digital technology will act as a tool, which will help them overcome their fears and feelings when moving to a new country.
Bani-Taha is being supervised by Dr. Fraser Taylor from the Geography and Environmental Studies department and Dr. Arya.
Says Bani-Taha:  "Dr. Fraser Taylor and Dr. Ali Arya are true inspirations, and because of their inspiring leadership, our group feels like a community. Their ideas, vision, encouragement, patience, and support are valuable sources in my academic journey and in developing my professional skills, and motivations have immensely improved my research."
He continued: "I want to say that Carleton University is one of the best places to make us feel home and welcomed. The high profile professors who are friendly, professional on supervising their students opens lots of opportunities for us to success and enjoy what we are researching. I hope the outcome of our research will help newcomer children in Canada and other children around the world to live the life they deserved and to make our universe a better place to live."
Their paper entitled Educational Computer Games for Social Adjustment of Newcomer Children, has just been accepted for publication. It is co-authored by Bani-Taha O., El Kouzi M., Arya, A., Taylor D.R.F.
Malek El Kouzi has been accepted into the PhD program at Carleton. He will be attending the Convocation ceremony in November to accept his master's degree.
–The above story was written by Taia Goguen-Garner
Wednesday, October 16, 2019 in Convocation, Grad Student Research, News
Share: Twitter, Facebook