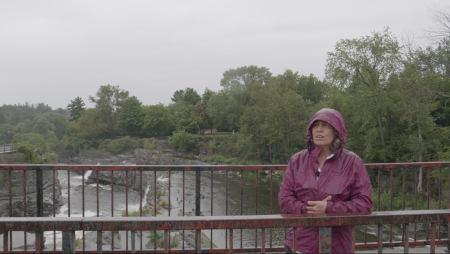 Last summer, six singer-researchers performed with one another in a variety of settings in and around Ottawa while exploring different environments through collaborative vocal improvisations. The result? A film called The Singing Field: A Performance of Environmental Vocal Exploration.
You are invited to view the premiere of this film on Feb. 28 ​at 7:30 p.m. EST.  If you are interested in attending the premiere, please email thesingingfield@gmail.com.
Here is a brief teaser:
The researcher, Nicola Oddy, is a PhD Cultural Mediations candidate at Carleton, who undertook this project ​as a part of her dissertation.
The process that she used included brainstorming sessions, collaborative vocal improvisation, and reflection/analysis of each session. Performers wrote personal journals in which they recorded thoughts that emerged between performances. Oddy also interviewed them individually before and after the six performances, and led group debriefs at the end of each session. "I ​am very grateful for all of the time they gave me last summer. It was collaborative research, and none of this would have happened without them."
Oddy used a practice that she calls Environmental Vocal Exploration (EVE) in which only those involved in the performance are present. There are passers-by, but the purpose of EVE is not to perform for an audience; it is to explore the surrounding environment through vocal improvisation.
Her project explored two main questions:
Can performative vocal improvisation in different urban environments lead to a renewed understanding of, and relationship with, the environment, and if so, with what effects?
What is the affective force of EVE (e.g., personal, emotional, spiritual) and what impact does it have on performers?
"Given my professional experience as a certified music therapist, my sustained practice of singing in diverse environments and my experience leading vocal workshops, I believe that EVE has direct applications for both music therapy and community music," says Oddy.  "In my music therapy practice, I developed it as a psychotherapeutic practice, but ​it is also ​effective for goal areas such as gaining confidence, increasing self-esteem, improving breathing, and improving quality of life."
Her project evolved out of work that she did with clients when she took them outside to improvise vocally in different kinds of acoustics. That was when she first saw that their perceptions of themselves changed when singing in different environments.
Says Oddy: "I feel that it was serendipity that I met Hasi Eldib one day when I was in the media commons prepping for a course that I was teaching last year. When we got talking, I realized that he was the filmmaker who created Rich Tapestries: The Ongoing Story of WAAM. (2019) for my supervisor, Jesse Stewart. I had been talking to people for several weeks trying to understand how to go about creating a film and when Hasi and I talked, all the pennies dropped right into place. He became an integral part of the fieldwork, the film's production and participating in discussion. Location sound engineer, John Rosefield also joined us, so the quality of the recording is beautiful."
Oddy says that COVID-19 played a major role in the process. "By the time I had my proposal defence at the end of April, the lockdown was in full force, so I had to act fast to make my project work within the realm of a pandemic, changing my ethics application and documenting how I planned to make concessions for it."
COVID also had a huge influence on where they sang. "We never had a chance to sing in – say – the National Gallery of Art under that beautiful spire or even in the Carleton tunnels. Some days it was even difficult to find outdoor places​ in which to sing due to restrictions."
Oddy chose to pursue the Cultural Mediations program at Carleton due to its interdisciplinary nature and the fact that it has a Music Stream. "The support from faculty and staff is always there when you need it."
She particularly applauds her supervisor Prof. Jesse Stewart. "I feel very fortunate that I am one of his students. He is incredibly creative in both his sound and visual art. He always provides me with great feedback that helps me to dig into my material."
View the Singing Field poster!
Tuesday, February 9, 2021 in News, Research
Share: Twitter, Facebook