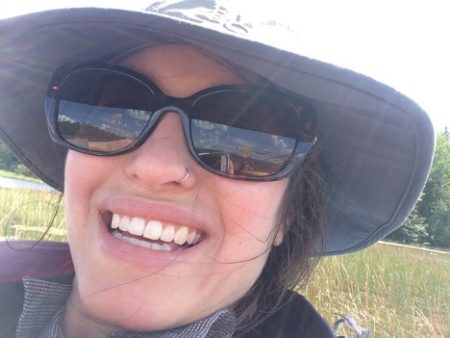 Noa Gang a PhD candidate in Biology, is examining the impact of man-made environmental toxins on beta cells in the pancreas. Gang works in a Diabetes and toxicology lab where the impact of persistent organic pollutants (POPs) on human health are studied.
"These chemicals are being phased out, however due to their resistance to degradation, POPs can be found all over the globe, and in most individuals," explained Gang. "I study the most toxic of these chemicals: TCDD (2,3,7,8-tetrachlorodibenzo-p-dioxin). My research examines the impact of TCDD on the pancreatic beta cell at a biomolecular scale."
Recently, Gang earned the top prize for her research in the graduate poster competition of the Life Sciences Day 4.1 annual event.
Gang is personally fascinated by the impact the environment can have on human health and/or behaviour.
"I am also extremely fascinated by cellular function and how changes at the cellular level can ultimately impact whole organism health or behaviour," shared Gang. "The research that I conduct at Carleton really marries these two fascinations of mine. My research enables me to study how environmental exposures can impact the health and function of a cell, and how those changes can in turn direct energy metabolism and overall health of the full organism."
Gang's research is of global interest to all humans who are exposed to POPs. The different impact based on the type of exposure is further complicated by individual variations in the population.
"Sex, obesity, time of life when exposure occurred, and any underlying health issues or genetic predispositions for illness make a difference in outcome of exposure," said Gang. "Studying all these nuances are beyond the scope of my PhD project. However, my research may help illuminate the synergistic effect of some of these complexities."
Gang focuses her research on studying the resulting changes in glucose stimulated insulin secretion of beta cells, as well as cell survival.
"I examine changes of gene expression in exposed cells," explained Gang. "This can inform me, for example, if TCDD exposure impacts a particular step along the molecular pathway of insulin secretion, or if exposure changes how the cells interact with each other or with their extracellular environment."
This research is being conducted out of The Bruin Lab run by Dr. Jenny Bruin from the department of Biology.
"Soon after moving to Ottawa, I came across the exciting research conducted in the Bruin lab and reached out to Dr. Jenny Bruin," said Gang. "I have since been extremely grateful to join the Bruin lab at Carleton! My lab is full of like-minded individuals who are gifted in their research abilities, incredibly supportive and love to laugh."
Dr. Jenny Bruin, who has recently won a Graduate Faculty Mentoring Award, has also been supervising Gang throughout this research.
"I am very lucky to work with a supervisor who genuinely loves research and discovery," explained Gang. "I feel that with Jenny's support and passion for research, I have been able to progress rapidly in my work. I always have the support I need when troubleshooting or planning a project."
This past year Gang took on the role of establishing and leading a trainee committee for the new Canadian Islet Research and Training Network. Through that role, she has organized numerous initiatives, including seminar series, journal club, career development seminar and more. Gang has also been a graduate mentor this year for the CHAIM Centre One Health Challenge.
Going forward, Gang hopes to continue to pursue her curiosity of the sex-specific effects of TCDD exposure on beta cells.
"We have already shown that there are sex-specific effects in mice exposed to TCDD, but we have yet to examine whether sex-specific effects can be seen in culture at the cellular level," said Gang.
–The above story was written by Taia Goguen-Garner.
Friday, April 9, 2021 in Grad Student Research, News
Share: Twitter, Facebook