Grad students Adam Bottomley,  Alireza Aleali and Yule Xiong have just been awarded $3,000 scholarships from the International Society for Optics and Photonics (SPIE).

Bottomley, a PhD student in the Department of Chemistry, will use his scholarship to pursue his photonics research in the Anatoli lab in collaboration with Drs. Jacques Albert and Winnie Ye from the Department of Electronics.
"Most of my research is focused on the properties of silver nanocubes, which are just very tiny cubes made out of ordinary silver metal," says Bottomley. "The special properties of these tiny metal cubes comes from the fact that they are so small they interact with visible light very strongly, essentially trapping the light in the cube. I am working with Dr. Albert to use these cubes and optic fibers to produce a powerful versatile sensing platform, and with Dr. Ye in an attempt to increase the efficiency of thin film solar cells."
Bottomley says he chose to do his PhD in Carleton, partly because his interests aligned well with the research opportunities in the Anatoli lab. "Prof. Ianoul's attitude, presence and encouragement have always pushed me to become a better scientist, both in practice and mentality;" says the PhD candidate. "I would like to acknowledge the rest of the Anatoli lab, past and present members on their support that have made working in this lab both insightful and enjoyable."
Aleali and Xiong are both members of Dr. Ye's Micro/NanoPhotonics Group. Their silicon photonics research with Dr. Ye and collaborators at the National Research Council Canada (NRC) is aimed at utilizing the electronic industry's existing fabrication facilities to provide much faster and cheaper optical telecom devices.
Aleali, a master's student, is working on an efficient optical modulation device that encodes digital data on a stream of light, using what's called Pockels effect in Silicon.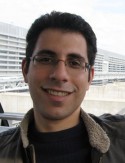 Explains Aleali:  "Essentially it converts an electrical signal to an optical signal which can then travel with speed of light across the room, the city, or the world. We expect this research will be used in next generation telecom and datacom networks."
Aleali also won the Best Presentation Award for the Photonics Theory, Design and Simulation session at the 15th Photonics North Conference.

Xiong, a PhD candidate, is focusing on designing novel photonic devices based on silicon photonic platforms. The devices can manipulate the light in the submicron scale, which is useful for sensing biomolecules.
The International Society for Optics and Photonics (SPIE), a not-for-profit organization founded in 1955 to advance light-based technologies. The Society serves more than 235,000 constituents from approximately 155 countries, offering conferences, continuing education, books, journals, and a digital library in support of interdisciplinary information exchange, professional networking, and patent precedent. SPIE provided over $3.2 million in support of education and outreach programs in 2012. Through 2012 SPIE has distributed over $3.8 million in scholarships to 1,905 students across 86 countries.