St. Charles Church, located between Beechwood Avenue and Barrette Street, first opened its doors in 1908. The church and grounds were regarded as a symbol of Vanier's francophone history, as the church was closely associated with the Order of Jacques-Cartier, a secret society bent on defending French-speaking Catholics in Canada against Anglo-Protestant societies such as the Freemasonry.
In 2010, the church finally closed its doors.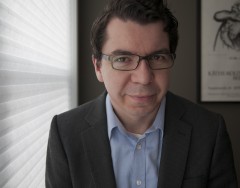 While the fate of the church hung in the balance, a staunch group of supporters decided the building was worth preserving as a heritage site – among them, Carleton master's student Mike Steinhauer.
"Time for discussion had passed as a sale was imminent and the building was at risk of being torn down," says Steinhauer.
After touring the church and being struck by its pristine space and beauty, he decided to act. He prepared a heritage application and formally submitted it to the City of Ottawa. The application laid out several reasons why the church deserved this designation, including its history, prominent architecture and value to the community. Steinhauer also published an extensive article in VanierNow, explaining his arguments.
Steinhauer was thrilled when the application received full support from City Council, four community associations and Heritage Ottawa.
"I would have liked to have seen elements of the interior designated but realize the limitations this places on the future use of the building," adds the grad student, "though, I do hope that the elegant columns and the open floor plan are kept intact."
Although the battle over the church was not directly linked to his graduate studies in the Art History MA program, Steinhauer points out that there is a relationship "as I am interested in the past use of space and the visual material produced, by both amateur and professional artists, in documenting urban environments."
Originally from Luxembourg, Steinhauer has been working in the arts and heritage field for the past 10 years. He is a former director of the Bytown Museum, and has worked at the National Gallery of Canada and the Library of Parliament. He is also is a past president of the Council of Heritage Organizations in Ottawa and past vice-chair of the Ottawa Museum Network.
These days, Steinhauer is working at the Department of Canadian Heritage and also focusing on his thesis under the supervision of Dr. Peter Coffman. Says Steinhauer: "His expertise in Canadian Gothic Revival architecture and keen photographic eye will be of immense value as I study the visual record of 19th century Ottawa architecture."
As for what the future holds, he wants to stay in the heritage field and let his research project take its course.
Wednesday, January 8, 2014 in Grad Student Research, News
Share: Twitter, Facebook