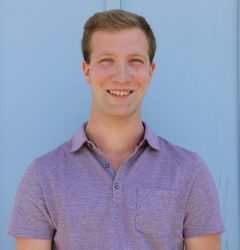 Between trying to save money and the environment, energy efficiency is something we've all thought about at one point or another. Master's student Brodie Hobson in the Civil Engineering program has been working towards finding new ways to bring about energy efficiency in existing buildings.
Hobson is conducting his research by implementing some of his proposed changes in the building automation system in the Canal Building.
"The axiom of this research is simply that people should be comfortable while they're in their buildings – if they're not there, why are we still conditioning these spaces?" said Hobson.
"I think if you work in a building, operate a building, or care about climate change in general, then, this should concern and affect you. I figured if we ever want to meet any of our climate or carbon goals as a nation, we need to start picking some of these low-hanging fruits," explained Hobson.
Today, commercial buildings make up a significant portion of our global energy use and CO2 emissions. This is caused by what Hobson describes as the over ventilating of spaces. In the summer, too much cold air is pumped out and in the winter too much hot air is pumped out. This results in occupants of commercial buildings using space heaters in the middle of summer and sweating in the middle of winter.
Hobson's research works towards fixing this issue by improving occupant comfort while also saving building operators money by reducing energy consumption. He is conducting this through his research assistantship at Carleton's Building Performance Research Centre.
Hobson believes that the future of energy efficiency will rely on the use of new technological innovations like high-efficiency equipment and new materials. This will need to be incorporated in new construction to maintain energy efficiency. Also, the use of data-driven approaches in existing construction will improve efficient and recommend courses of action that can be taken.
Hobson emphasizes that the work of engineers is not only needed for this project.
"If we can figure out a way to better forecast building occupancy in the design phase of buildings, we can decrease the size of the HVAC equipment from the start, reducing the capital cost and the cost of operating the equipment over its lifetime. This is not simply an engineering task; there needs to be more engagement with professionals in fields such as psychology and anthropology to help us understand and characterize the human-behaviour aspect of this problem"
Hobson has been working towards using data-driven approaches to improve energy efficiency in existing buildings. He also has a role in facilitating discussions with other academics and industry professionals who have the resources to help push towards improved building energy efficiency.
"Our current estimates place energy savings around $9,000 to $20,000 per year (at the current electricity and natural gas prices) in the Canal Building, which adds up quickly over the course of the building's lifetime. This is about a 35 to 64% reduction in the annual outdoor-air conditioning loads," described Hobson.
Hobson's interest in energy efficiency piqued when taking Professor Burak Gunay's Green Building Design class in the last year of his undergraduate degree. Prof. Gunay has been supervising Hobson throughout his research. Hobson has been working on the professor's research project, which has immensely aided Hobson's research.
"Professor Gunay has been incredibly kind and supportive since before I began my research. His openness and candor have allowed me to ask questions and explore my research in a way that I never imagined possible. He has been generous enough to provide me with opportunities to work with other colleagues on projects, such as the team over at the National Research Council of Canada and the researchers of IEA EBC Annex 79. Working with both these parties has allowed me to travel and put me in the mix with individuals who are the leading experts in occupant-centric controls, elevating the quality of the research we have been able to do thus far. I am truly fortunate to have him as my supervisor and look forward to what we can continue to accomplish as a team."
Hobson's goal is to collect and analyze the results from his experimental implantation and share the findings to relevant publications. Overall, he would like to see the results of his research be implemented in everyday building operation and design practices.
"I firmly believe that if we can thoroughly, repeatedly, and reliably prove and quantify the energy savings potential of data-driven and occupant-centric building controls, we can slowly convince industry of the importance of smart building operations. This will require tireless and patient advocacy by an emerging group of forward-thinking professionals. I hope I too can contribute to this effort with my research."
–This story was written by Taia Gaguen-Garner.
Thursday, November 7, 2019 in Grad Student Research, News
Share: Twitter, Facebook