–The following story was written by Taia Goguen-Garner.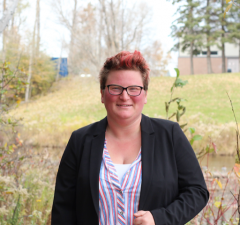 Robyn O'Loughlin, a PhD Candidate in Legal Studies, is researching the effects of Ontario's anti-bullying framework under the Education Act in regard to so-called bullying behaviours. She is looking at how these legislative frameworks impact Indigenous students who move to attend high school in Northern Ontario.
"Growing up in Thunder Bay, I witnessed racism against Indigenous people," shared O'Loughlin. "I witnessed violence against Indigenous people, and I witnessed harassment against Indigenous people. As a child, I did not know what Indigenous peoples had faced – why did the larger community disregard their existence? Why were they viewed as problems? Part of the reason that I questioned this was because of the numerous deaths that had occurred in Thunder Bay that involved Indigenous students attending Dennis Franklin Cromarty High School."
O'Loughlin wanted to know whether the Ontario anti-bullying framework that was passed in September 2012 is reinforcing colonial relationships where stereotypes are perpetuated, and if and how this framework potentially impacts Indigenous students while they are in school. She is also interested in if Indigenous students are discriminated against despite this legislation.
"Fatalities of Indigenous youth in Thunder Bay continued and remain a problem in the community," said O'Loughlin. "There have been other Indigenous youth who died who were visiting the city. Rather than address this problem at the onset, it took 10 years and seven lives (those who died attending DFC) to petition for an inquest into the reasons why specific deaths occurred."
O'Loughlin's interest in this research stemmed from hearing her maternal grandmother's story. In 1945, at the age of 16, her maternal grandmother was tested for tuberculosis, along with the rest of her classmates. A bandage was placed over the test site. She had an allergic reaction to the adhesive and was instantly diagnosed with tuberculosis.
Says O'Loughlin: "She was institutionalized in the Fort William Sanatorium for six months, where she endured multiple tests and her lungs were surgically collapsed. When she was healing from this invasive and unnecessary surgery, her incision sites were re-opened. She was experimented on. Six months from the day she arrived, my grandmother was sent home. No one followed up with her to see how she was doing post-release. She tried to disengage from this traumatic experience. Seventy-four years later, however, my grandmother could recall the events. She had said many times, 'if they could do that to me over an allergic reaction, what did the others go through?' This is the only account of my Grandmother's story as her patient records were destroyed."
O'Loughlin says that her grandmother was told by physicians that her lungs look like they had been butchered, with a lot of scar tissue.
"Up until February 23, 2020, she walked around with internal scars – physically and psychologically. Her story leaves a lasting legacy and acknowledges that simply destroying records does not erase the past wrong-doings, like the Canadian state has done to so many Indigenous families and their records."
O'Loughlin's research highlights how bullying is not simply bullying but rather a term that obfuscates racism. She also notes that this research aids in breaking down common notions surrounding bullying, such as racism or harassment, beliefs that teachers may hold.
The PhD student has found that some teachers understand the complications Indigenous youth face when moving from northern communities where resources may be sparse in comparison to an urban centre. Even though the youth move from a remote community, they are required to meet the same expectations as students who have been able to access resources and education their entire lives. She says that this puts many Indigenous youth at a disadvantage.
Notes the PhD student, since the Truth and Reconciliation Commission's Calls to Action were published in 2015, some teachers care about incorporating Indigenous content into their lessons; others do not.
"Some teachers recognize that the anti-bullying legislation does not solve society's problems; some look at the anti-bullying framework as a checklist to ensure they are following the correct steps to discipline students for negative behaviour. Some teachers lump together instances of racism, harassment and rape as bullying behavior."
O'Loughlin's research has also led her to come up with various recommendations to combat this issue.
"Teachers should learn about Indigenous culture – listen to Elders; build meaningful and trusting relationships with Indigenous people. Teachers should learn to critically reflect on their own pre-conceived ideas that they bring into the classroom (i.e. how does their family history, culture, class impact how they view their students?). Teachers should learn and ensure they understand what harassment, racism, violence etc. look like. Teachers should be given the choice if they want to involve Indigenous teachings into their lessons; those who do not should either be trained to understand an Indigenous cultural context or re-think about their options of teaching in northern Ontario where Indigenous populations are high and Indigenous culture is rich."
Dr. Vincent Kazmierski, the Chair of the Department of Law and Legal Studies has been supervising O'Loughlin throughout this research. "I have gone through some challenging times since starting my PhD and he has been a great support along the way," says O'Loughlin. For my research project, he guided me when I was developing research questions; he pushed me to critically reflect on what 'bullying behaviour' looks like. He also pushed me to critically think about the Ministry of Education's policies around student behaviour, teacher behaviour, codes of conduct as well as what do the policies mean specifically for Indigenous students and their treatment in school by teachers and fellow students."
O'Loughlin's future goal is to take up a postdoctoral fellowship position with Dr. Vicki Kristman at EPID@Work (Enhancing the Prevention of Injury & Disability @ Work) Research Institute at Lakehead University in Thunder Bay, ON.
"My proposed post-doctoral research project parallels my doctoral research," explains O'Loughlin. "I am interested in understanding how Canada's amended Labour Code, which now includes violence and harassment in the workplace, impacts Indigenous workers. My doctoral research on anti-bullying policies and procedures in school is comparable to workplaces because the workplace is another location (like schools) where behaviour labeled as 'bullying' takes place. When examining Indigenous workers, the impacts of behaviour defined as bullying (and the mere act of defining the behaviour as bullying as opposed to racism, violence or harassment) may be exacerbated given the unique history of Indigenous peoples in Canada."
Monday, June 1, 2020 in Grad Student Research, News
Share: Twitter, Facebook