–The following story was written by Taia Goguen-Garner.
Many pilots and air traffic controllers' insufficient language proficiency has contributed to several incidents and accidents.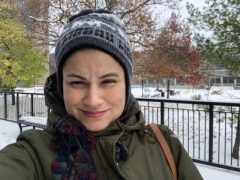 The International Civil Aviation Organization (ICAO) published the Standard and Recommended Practices regarding pilots and air traffic controllers' language proficiency. "Since March 2008 (later extended to 2011), pilots and air traffic controllers need to demonstrate their ability to speak and understand the language used for radiotelephony communications which, in most cases, is English," explained Angela Garcia, a PhD student in Applied Linguistics and Discourse Studies.
Garcia is investigating pilots' and aviation English experts' accounts of listening in the context of radiotelephony communications. The aim of her research is to investigate what needs to be assessed in terms of pilots' listening comprehension and how to assess listening comprehension.
Garcia's job at the Brazilian Civil Aviation Agency, which is the governmental authority that is responsible for testing the language proficiency of pilots, is what initially got her interested in this research. She also works with the development, administration, and validation of the Brazilian language proficiency test for pilots, the Santos Dumont English Assessment.
"I was interested in doing this research because I feel I need to do my best at my job, because of the high stakes involved in this context," explained Garcia. "I need to be very responsible as safety of crew, passengers and people on the ground are at stake, but also the careers of pilots who need to be allowed to fly internationally."
Garcia hopes this research will help ICAO language test developers to design tests and create test tasks that reflect the real language needs of pilots. She also hopes that this research will aid aviation English trainers to develop training materials that will help pilots become more proficient in English and more skilled at using strategies to communicate in a safe way.
"I hope that my research results will contribute to more appropriate and effective pilot training and testing and, consequently, to safer skies for not only the crew, but also the passengers and people on the ground," shared Garcia. "Aviation safety has a huge impact on the general public, as aviation is one of the most important means of transportation in the world."
Dr. Janna Fox from the School of Linguistics and Language Studies has been supervising Garcia throughout this research.
"She is a very knowledgeable, competent, experienced and friendly professor," expressed Garcia. "She always gave me useful and relevant feedback on my assignments and presentations. To submit my article for publication, I needed a co-author who held a PhD, and Janna kindly accepted my invitation."
Dr. Fox recently retired, and Dr Guillaume Gentil and Dr. Geoffrey G. Pinchbeck are now co-supervising Garcia's research.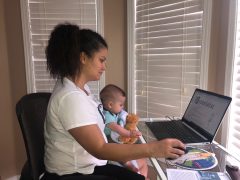 "I received full support from the instructors and my classmates to conduct the pilot study that I needed to conduct during my first year," said Garcia. "We were encouraged to submit our articles to a journal, and I am glad we were, because the article I wrote is going to be published by a peer-reviewed journal this month. This whole experience has been extremely challenging not only because of the pandemic, but also because I had a baby a few months ago, while I was conducting my study. It is not easy to study, TA, and take care of my family and home (especially of the baby) at the same time. Thank God, I managed to finish my article and get it published. I consider this to be a significant achievement."
Garcia will be working to finish defining the construct of listening testing for pilots, and start to carry out research to investigate the best types of tasks that should be used in pilot's language proficiency tests.
"I plan to present my research results in conferences, but, because of the pandemic, I am organizing a webinar for the International Civil Aviation English Association, which will happen in November," said Garcia. "I would also like to submit other articles to be published in academic journals. I would love the result of my research to have an impact on the ICAO policy, what would impact tests all around the world."
Wednesday, October 7, 2020 in Grad Student Research, News
Share: Twitter, Facebook