–The following story was written by Taia Goguen-Garner.
Youth involved in the criminal justice system are often profiled on whether they will reoffend or not. But does the likelihood of reoffences have a gendered aspect to it?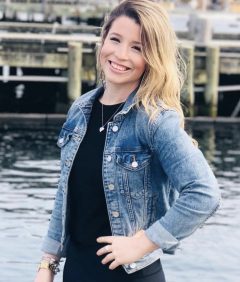 For her thesis, Megan Wagstaff, a Master's student in Psychology is researching justice-involved youth. Wagstaff has examined risk and strength factors (factors which increase or decrease the likelihood that an individual will reoffend) for this population.
She is interested in determining what profiles of justice-involved youth would emerge, and what gender differences and similarities exist across these profiles.
Wagstaff was introduced to this topic when she took her first course in Forensic Psychology during her undergraduate degree.
"I knew that this area of psychology was my passion," shared Wagstaff. "I was then lucky enough to take a course with Dr. Shelley Brown in my 3rd year, and learned more about the research that she conducts with the Gender and Crime Research Lab. This got me interested in research that includes justice-involved females since so much of the research in the past has focused solely on males. I have also always wanted to study youth who are in conflict with the criminal justice system, as I believe they are at a particularly vulnerable but also potentially protective age."
Wagstaff hopes that with effective risk assessment and treatment interventions, justice-involved youth can go on to exit the criminal justice system cycle and have a high chance of positive and successful outcomes.
Her findings concluded that there were many more similarities than differences in the profiles of youth that emerged between males and females.
"These findings contrasted my hypotheses and previous studies that found more gender differences," explained Wagstaff.
She continued: "I argued that we need to take a gender-informed approach to risk assessment and treatment interventions. This means focusing on both females and males in order to compare gender differences and similarities. This approach understands that while certain risk factors may be the same for males and females, the expression (e.g., operational definition) and underlying experience of these factors could be very different for each gender – for example, mental health concerns."
"I also argued that a more typically used linear approach to risk assessment (i.e., categorizing individuals as low, moderate or high on risks and strengths) opposed to creating these profiles to try to further distinguish justice-involved youth, can be effective and sufficient."
Wagstaff's research is important for aiding practitioners in making informed decisions regarding treatment strategies for their clients.
Shared the grad student: "It supports the necessity of holistic treatment regimens and ensuring the implementation of mental health and trauma-informed services in youth justice settings for both females and males. It also supports the linear risk assessment strategies that many youth justice agencies are currently using."
Wagstaff has been working in the Gender & Crime Research Lab directed by Dr. Shelley Brown, an Associate Professor of Forensic Psychology.
"The Gender & Crime Research Lab has been my 'home' at Carleton for the past three years," said Wagstaff. "The lab is dedicated to understanding female offending using both qualitative and quantitative approaches. The lab is currently focused on examining the reliability and validity of existing risk assessment tools for females, developing new female-based risk assessment tools, and developing models of female criminal behaviour."
Dr. Shelley Brown has been supervising Wagstaff throughout this research.
"Shelley has been such an incredible role model, mentor, and supervisor to me. She is a huge reason why I decided to pursue graduate studies, and why Carleton was my top choice for my master's program. I can't say enough amazing things about what she has done to support me throughout my graduate career – both in terms of my research, and other experiences in grad school. Shelley believes in her students, and truly pushes them to reach their highest potential. She has the perfect combination of a warm, compassionate, and approachable leadership style, while also communicating constructive feedback, and demanding quality work from her students. It has been an honour to work under her supervision for the past three years."
As Wagstaff has recently graduated from her Master's degree, her future goal is to work in the clinical side of psychology.
"I loved the MA in Psychology program and feel as though it has really set me up for a successful future," shared Wagstaff. "I think its strengths lie in the strong focus on research, the practicum option, and in the incredibly talented and dedicated staff. I also loved the opportunities I had to travel for multiple conferences across the country, which allowed me to meet a number of influential academics, and really expand my knowledge in my field. My dream has always been to treat children and youth, particularly those of vulnerable populations. However, clinical practice is grounded in research, and therefore, I think my education and experience with this MA in Psychology program will help me to be a better clinician one day. I also hope to continue my research trajectory in conducting studies which focus on risks and strength factors of justice- involved youth."
Thursday, November 5, 2020 in Grad Student Research, News
Share: Twitter, Facebook