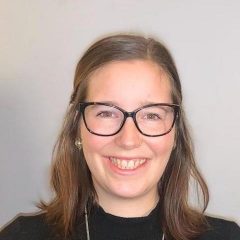 Veronica Øverlid, a PhD Candidate in the Department of Law and Legal Studies at Carleton, has been awarded a 2020 Pierre Elliott Trudeau Scholarship.
Øverlid started working on the topic of displacement during her master's degree, which she completed at the American University in Cairo, Egypt.
Her PhD research will focus on the 'migrant caravan' in Central America as a social resistance movement, considering its implications for international law.
She is interested in examining a group of people (around 10,000 individuals) who moved from Central America, through Mexico, and towards the United States in 2018. This 'migrant caravan' was a relatively small movement compared to the around 400,000 people that yearly attempt to cross the Mexico-US border.
Øverlid explains that displacement is often presented as a 'problem to be dealt with', with displaced persons often portrayed as passive victims or 'illegal invaders'. "The caravan disrupts this narrative, and poses a challenge to the debate about borders, displacement and agency."
She says that she hopes to locate an alternative narrative of borders and displacement. "I would like to look into whether there are other ways of thinking about these concepts, as opposed to the mainstream view that migration control and militarization of borders is something necessary and inevitable."
Øverlid notes that she is completing her second year of her PhD. As such, her research project is a preliminary stage and is still subject to adjustment.
She says that her supervisor, Prof. Umut Özsu, has been absolutely fantastic. "He has offered excellent support throughout the program, even before he was formally my supervisor. He is tremendously resourceful, always positive and available to discuss new ideas and how to develop my work further. The support from a supervisor is crucial, and I think I have been very lucky."
Øverlid is appreciative of the overall support she has received. "I would like to thank the Law and Legal Studies Department for all the generous support I have received so far, both from faculty and students alike. I have also had the opportunity to connect with people from other departments at Carleton, which has been really valuable. Finally, I would like to thank the Pierre Elliot Trudeau Foundation for giving me such an amazing opportunity, and for welcoming me to be a part of its vibrant community of scholars, fellows and mentors. This will be life-changing, and I am really looking forward to what comes next."
Prior to her PhD, Øverlid worked with civil society organizations related to human rights and youth in several countries and has written several non-academic articles about human rights activism in Latin America. In addition, she has worked at the United Nations Population Fund (UNFPA) in Egypt, with a focus on gender-based violence. She has significant experience in teaching as well as in outreach work.
Currently, she is involved in various student initiatives at Carleton, including the Migration and Diaspora Student Society and the Graduate Law Student Association.
About the Foundation
The Pierre Elliott Trudeau Foundation is an independent and nonpartisan charity established in 2001 as a living memorial to the former prime minister and accomplished public intellectual. In 2002, with the support of the House of Commons, the Government of Canada endowed the Foundation with the Advanced Research in the Humanities and Human Sciences Fund. The Foundation also benefits from private donations. By granting doctoral scholarships and  appointing fellows and mentors to provide leadership training, the Foundation supports the development of a new generation of Engaged Leaders through the democratization of knowledge.
Monday, April 6, 2020 in Awards, Awards of Distinction, News
Share: Twitter, Facebook